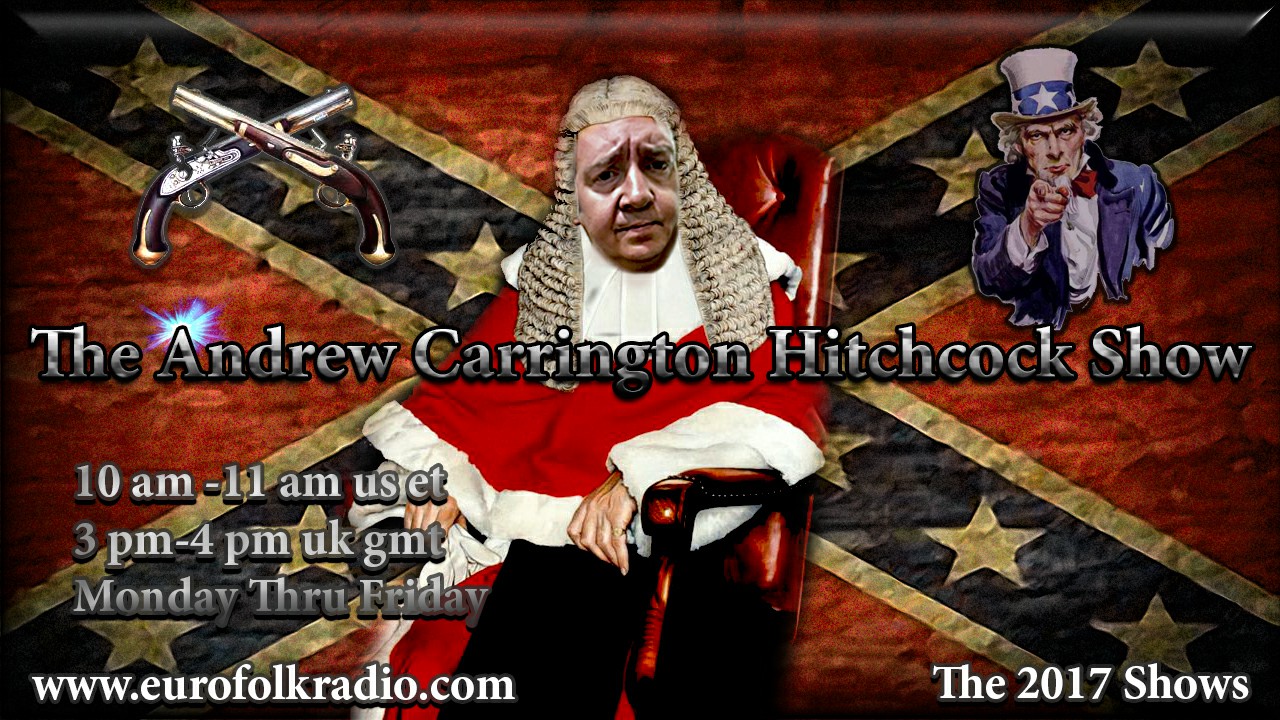 The Andrew Carrington Hitchcock Show is a daily 1 hour show in which I talk to a variety of guests.
Since October 30 2017, I have been broadcasting a new show every day of the year.
To download and save on Windows, simply right-click any of the links below and click "Save link as…" For Apple Macs simply use Control-click. To stream online simply click the link.
(523) December 31 2017 Paul English – The Stockholm Syndrome Of The White Race
(522) December 30 2017 Jan Lamprecht – The Growing White Resistance Movement In South Africa
(521) December 29 2017 Gertjan Zwiggelaar – Down The Rabbit Hole With Gertjan And Andy #9
(520) December 28 2017 Dr. Peter Hammond – Why Was General George S. Patton Assassinated?
(519) December 27 2017 Michael Walsh – The Ethnic-European With Mike And Andy #9
(518) December 26 2017 Monika And Alfred Schaefer – Cultural Degradation
(517) December 25 2017 The EFR Pastors – What Do Identity Believers Do On Christmas Day?
(516) December 24 2017 Paul English – We Wish You A Very Mixed Race Christmas
(515) December 23 2017 Dion From Radio Wehrwolf – Charles Manson: The Serial Killer Who Never Killed Anybody
(514) December 22 2017 Gertjan Zwiggelaar – Down The Rabbit Hole With Gertjan And Andy #8
(513) December 21 2017 King Khoebaha Cornelius III & Karin Smith – The Sovereign State Of Good Hope's Secession From South Africa
(512) December 20 2017 Michael Walsh – The Ethnic-European With Mike And Andy #8
(511) December 19 2017 Dr. Eric Karlstrom – Political Correctness
(510) December 18 2017 Dr. Adrian Krieg – Almost Live With Adrian And Andy #8
(509) December 17 2017 Paul English – What Does The End Of Net Neutrality Mean For The Alternative Media?
(508) December 16 2017 Pastor Dan Johns – In Search Of Karl Klang…
(507) December 15 2017 Gertjan Zwiggelaar – Down The Rabbit Hole With Gertjan And Andy #7
(506) December 14 2017 Grizzom, Ognir, & Zapoper – Mami's Shit
(505) December 13 2017 Michael Walsh – The Ethnic-European With Mike And Andy #7
(504) December 12 2017 Pastor Eli James – The Declaration Of Arbroath: Overwhelming Proof The White Race Are The Israelites Of The Bible!
(503) December 11 2017 Dr. Adrian Krieg – Almost Live With Adrian And Andy #7
(502) December 10 2017 Paul English – Updating Jewish Genocide Of The White Race – CASE CLOSED!
(501) December 9 2017 Alfred Schaefer – Defining Hate Speech
(500) December 8 2017 Gertjan Zwiggelaar – Down The Rabbit Hole With Gertjan And Andy #6
(499) December 7 2017 Dr. Eric Karlstrom – Agenda 21 & The Man Caused Global Warming Fraud
(498) December 6 2017 Michael Walsh – The Ethnic-European With Mike And Andy #6
(497) December 5 2017 Dr. Peter Hammond – Mandela: Past, Present, And Future
(496) December 4 2017 Dr. Adrian Krieg – Almost Live With Adrian And Andy #6
(495) December 3 2017 Paul English – Enoch Powell's Rivers Of Blood Speech
(494) December 2 2017 Leigh Du Preez – The South African Family Relief Project
(493) December 1 2017 Gertjan Zwiggelaar – Down The Rabbit Hole With Gertjan And Andy #5
(492) November 30 2017 Bernie Davids – The American Nazi Party Archives – Part 3
(491) November 29 2017 Michael Walsh – The Ethnic-European With Mike And Andy #5
(490) November 28 2017 Mark Collett – The Fall Of Western Man
(489) November 27 2017 Dr. Adrian Krieg – Almost Live With Adrian And Andy #5
(488) November 26 2017 Paul English – Infidels Of Britain – Part 2
(487) November 25 2017 Dr. Peter Hammond – On The Frontline
(486) November 24 2017 Gertjan Zwiggelaar – Down The Rabbit Hole With Gertjan And Andy #4
(485) November 23 2017 David Meade – The End Of Days!
(484) November 22 2017 Michael Walsh – The Ethnic-European With Mike And Andy #4
(483) November 21 2017 Alfred Schaefer – This Is Not A Game!
(482) November 20 2017 Dr. Adrian Krieg – Almost Live With Adrian And Andy #4
(481) November 19 2017 Paul English – Infidels Of Britain – Part 1
(480) November 18 2017 Dr. Eric Karlstrom – Ode To Jimmy
(479) November 17 2017 Gertjan Zwiggelaar – Down The Rabbit Hole With Gertjan And Andy #3
(478) November 16 2017 Bernie Davids – The American Nazi Party Archives – Part 2
(477) November 15 2017 Michael Walsh – The Ethnic-European With Mike And Andy #3
(476) November 14 2017 John Tiffany – Just How Long Will State Song Survive & Cherokee General Was Last To Surrender
(475) November 13 2017 Dr. Adrian Krieg – Almost Live With Adrian And Andy #3
(474) November 12 2017 Paul English – Remembering The Harrowing Last Moments Of Lesley Ann Downey
(473) November 11 2017 Professor Ray Goodwin – Slavery Or Tariffs: What Really Caused Secession?
(472) November 10 2017 Gertjan Zwiggelaar – Down The Rabbit Hole With Gertjan And Andy #2
(471) November 9 2017 Dr. Matthew Raphael Johnson – Lessons From Charlottesville
(470) November 8 2017 Michael Walsh – The Ethnic-European With Mike And Andy #2
(469) November 7 2017 Dr. Eric Karlstrom – Weather Warfare As State Sponsored Terrorism
(468) November 6 2017 Dr. Adrian Krieg – Almost Live With Adrian And Andy #2
(467) November 5 2017 Paul English – Guy Fawkes Night
(466) November 4 2017 Gene Andrews – The Truth About The Fort Pillow Massacre
(465) November 3 2017 Gertjan Zwiggelaar – Down The Rabbit Hole With Gertjan And Andy #1
(464) November 2 2017 Karin Smith – South Africa: Past, Present, And Future
(463) November 1 2017 Michael Walsh – The Ethnic-European With Mike And Andy #1
(462) October 31 2017 John Friend – The Great History Heist
(461) October 30 2017 Dr. Adrian Krieg – Almost Live With Adrian And Andy #1
(460) October 27 2017 Gertjan Zwiggelaar – Almost Live With Andy And Gertjan #7
(459) October 26 2017 Harald Hesstvedt Scharnhorst – Rebel Private: Front And Rear
(458) October 25 2017 Clint Lacy – 15 Minutes To Leave: The Missouri Exodus
(457) October 24 2017 John Fitzgerald – J.D. Salinger & The WW2 Counterintelligence Corps
(456) October 23 2017 Rae West – How Education And Propaganda Are Intertwined
(455) October 20 2017 Gertjan Zwiggelaar – Almost Live With Andy And Gertjan #6
(454) October 19 2017 Gerhard Lauck – Censor-Free.com
(453) October 18 2017 Dr. Eric Karlstrom – The Frankfurt School And Cultural Marxism
(452) October 17 2017 Rick Adams – Signs Of The End Times
(451) October 16 2017 Thomas Goodrich – Introducing Tom's Books
(450) October 13 2017 Gertjan Zwiggelaar – Almost Live With Andy And Gertjan #5
(449) October 12 2017 The EFR Pastors – Introducing Christian Identity…
(448) October 11 2017 Paul English – Is Monty Python's Life Of Brian Blasphemous?
(447) October 10 2017 Michael Walsh – The Coming Economic Collapse…
(446) October 9 2017 Dr. Adrian Krieg – The Class Action Contingency Suit Against The SPLC
(445) October 6 2017 Gertjan Zwiggelaar – Almost Live With Andy And Gertjan #4
(444) October 5 2017 Brian Ruhe – Behind The Scenes Of A Truth Movement Show
(443) October 4 2017 David Meade – Planet X: FINAL WARNING!
(442) October 3 2017 Dr. Eric Karlstrom – The Links Between 911 And Gangstalking
(441) October 2 2017 Bernie Davids – The Rockwell Report & The Hutschnecker Report
(440) September 29 2017 Gertjan Zwiggelaar – Almost Live With Andy And Gertjan #3
(439) September 28 2017 Miriam Al Fatah – Libya: Past, Present, And Future
(438) September 27 2017 Paul Angel – The New Barnes Review Edition Of The Synagogue Of Satan: Updated, Expanded & Uncensored
(437) September 26 2017 Dana Durnford – How The Fukushima Disaster Will Destroy The World
(436) September 25 2017 James Bacque – Other Losses & Crimes And Mercies
(435) September 22 2017 Dr. David Duke – My Awakening
(434) September 21 2017 The EFR Pastors – Identifying The Beast…
(433) September 20 2017 Jim Rizoli – The Synagogue Of Satan Updated, Expanded, And Uncensored
(432) September 19 2017 Paul Angel – Introducing The Barnes Review's September/October 2017 Special Edition: Defending Dixie
(431) September 18 2017 Rae West – Big-Lies.Org – Part 2
(430) September 15 2017 Gertjan Zwiggelaar – Almost Live With Andy And Gertjan #2
(429) September 14 2017 Paul Fromm – Not Enough Free Speech And Too Much Immigration
(428) September 13 2017 Pastor Dan Johns – MGTOW (Men Going Their Own Way)
(427) September 12 2017 Mark Anderson – The September 11 & 18 2017 Issue Of The American Free Press
(426) September 11 2017 Dr. Eric Karlstrom – Dr. Karlstrom's Research On 9/11
(425) September 8 2017 Gertjan Zwiggelaar – Almost Live With Andy And Gertjan #1
(424) September 7 2017 Monica Stone – Communism Is Alive And Well In South Africa…And The World
(423) September 6 2017 Dr. Eric Karlstrom – Gangstalking As Part Of Project Lucifer
(422) September 5 2017 Julie Jansen van Rensberg – The Nicolaas van Rensburg Prophecies
(421) September 4 2017 Ted Midward – Caucasian Christian Communications
(420) September 1 2017 Diane King And Jim Rizoli – Our Journey To The Truth
(419) August 31 2017 Michael Walsh – The Voice Of Ethnic Europeans Worldwide
(418) August 30 2017 Gertjan Zwiggelaar – To Learn Who Rules Over You, Simply Find Out Who You Are Not Allowed To Criticize
(417) August 29 2017 Mark Anderson – The August 28 & September 4 2017 Issue Of The American Free Press
(416) August 28 2017 Dr. Adrian Krieg – The Ordinary Life Of A 20th Century Renaissance Man
(415) August 25 2017 Michael Walsh – Surveillance: Past, Present, And Future
(414) August 24 2017 Renate Detels – The Experiences Of A Targeted Individual
(413) August 23 2017 Dr. Eric Karlstrom – The Gangstalking Of A Targeted Individual
(412) August 22 2017 Robert Gaylon Ross – Who's Who Of The Elite & The Elite Control Everything Of Significance
(411) August 21 2017 Dr. James David Manning – The Life Story And Thoughts Of Dr. James David Manning
(410) August 18 2017 Rae West – www.Big-Lies.org
(409) August 17 2017 John Kaminski – www.JohnKaminski.org
(408) August 16 2017 Walter Burien – Comprehensive Annual Financial Reports Exposed
(407) August 15 2017 Mark Anderson – The August 14 & 21 2017 Edition Of The American Free Press
(406) August 14 2017 Dr. Lorraine Day – The Ernst And Ingrid Zundel Story
(405) August 11 2017 Harald Hesstvedt Scharnhorst – Tunnel Rats Of Vietnam
(404) August 10 2017 Jacob Tyler – The Persecution Of Samuel Girod
(403) August 9 2017 Stephen Mitford Goodson – The Banking Scam Explained In The Simplest Possible Manner
(402) August 8 2017 The EFR Pastors – Sodom And Gomorrah In The End Times
(401) August 7 2017 Michael Walsh – Zhukov: Wretched Marshall Of The USSR
(400) August 4 2017 Dr. Adrian Krieg – My First Days In The White House
(399) August 3 2017 Robert Gaylon Ross – The Clint Murchison Meeting
(398) August 2 2017 Gertjan Zwiggelaar – How The Whites Are Persecuted In White Nations For Being White
(397) August 1 2017 Mark Anderson – The July 31 & August 7 2017 Edition Of The American Free Press
(396) July 31 2017 Michael Walsh – Laurence Burns's, "The Adversary."
(395) July 28 2017 David Meade – The Prepper's Guide To Surviving EMP Attacks, Solar Flares And Grid Failures
(394) July 27 2017 Ian Verner Macdonald – Star Weekly At War
(393) July 26 2017 Ognir – The Info Underground
(392) July 25 2017 Robert Gaylon Ross – Introducing The Elites
(391) July 24 2017 Dr. Adrian Krieg – Invasions!!! Their Documented Historical Relevance
(390) July 21 2017 Jan Lamprecht – The Planned Genocide Of South Africa's White Population
(389) July 20 2017 William Johnson – The American Freedom Party
(388) July 19 2017 Bernie Davids – The American Nazi Party Archives – Part 1
(387) July 18 2017 Mark Anderson – This Week's American Free Press
(386) July 17 2017 Harald Hesstvedt Scharnhorst – An Immigrant Remembers
(385) July 14 2017 Michael Walsh – Europe Arise
(384) July 13 2017 Dr. Adrian Krieg – The Thoughts Of Dr. Adrian Krieg
(383) July 12 2017 Dion From Radio Wehrwolf – How To Use Saul Alinsky's Rules For Radicals Against The Left
(382) July 11 2017 The EFR Pastors – Psalm 137
(381) July 10 2017 Gertjan Zwiggelaar – Islam And Judaism: Two Wings Of The Same Bird
(380) July 7 2017 Monika Schaefer – Sorry Mom, I Was Wrong About The Holocaust
(379) July 6 2017 Ian Verner Macdonald – Ian's Life And The Truth About Winston Churchill
(378) July 5 2017 David John Oates – An Introduction To Reverse Speech
(377) July 4 2017 Andrew Carrington Hitchcock – This Week's American Free Press
(376) July 3 2017 Pat Shannan – Fake History Is Nothing New
(375) June 30 2017 Michael Walsh – Remembering Edith Piaf And You Can't Fix Stupid
(374) June 29 2017 Paul Angel – The Barnes Review May/June 2017
(373) June 28 2017 John Friend – Operation Mockingbird: How The CIA Controls The News
(372) June 27 2017 Germar Rudolf – Court Historians Demand Proof That Camps Not For Killing
(371) June 26 2017 John Tiffany – The Amazing Francis Bacon & A War Declared On Free Speech
(370) June 23 2017 Evelyn Hutcheson – Matt Hale: A Mother's Quest For Justice
(369) June 22 2017 Dr. Tomislav Sunic – Against Democracy And Equality
(368) June 21 2017 Harry Cooper – Adolf Hitler In Argentina
(367) June 20 2017 Mark Anderson – This Week's American Free Press
(366) June 19 2017 Michael Walsh – Jean Raspail's, "The Camp Of The Saints."
(365) June 16 2017 Dave Gahary – The Barnes Review Interview
(364) June 15 2017 Sean Maguire – Out Of The Bag
(363) June 14 2017 Werner Bock – A Farmer's Ordeal
(362) June 13 2017 Patricia Aiken – The Hammonds, The Bundys, And The Assassination Of LaVoy Finicum
(361) June 12 2017 Jan Lamprecht – The Great Jewish Masque
(360) June 9 2017 Clint Richardson – Strawman: The Real Story Of Your Artificial Person
(359) June 8 2017 Dave Gahary And Phil Tourney – Erasing The Liberty: The 50th Anniversary Of Israel's Attack On America
(358) June 7 2017 Brendon O'Connell – Strategies We Can Use To Tackle Jewish Power
(357) June 6 2017 Dr. Eric Karlstrom – Update On Gang Stalking
(356) June 5 2017 Dr. Fredrick Toben – Dr. Toben's Wikipedia Page
(355) June 2 2017 Dr. Adrian Krieg – This Week's American Free Press
(354) June 1 2017 Ole Dammegard – False Flag Attacks
(353) May 31 2017 Andrew Carrington Hitchcock – The Complete Articles From My Website
(352) May 30 2017 Jez Turner – The Underhand Unofficial Secret Censorship
(351) May 29 2017 Mark R. Elsis – The Most Comprehensive Timeline Of John Fitzgerald Kennedy
(350) May 26 2017 Randy Gray – What Would Our Founding Fathers Do Today?
(349) May 25 2017 Alfred Schaefer – The Situation In Germany
(348) May 24 2017 Andrew Carrington Hitchcock – In The Name Of Yahweh – Part 6 (A.D. 30 – A.D. 100 – The Last Days)
(347) May 23 2017 Michael Walsh – U.S.A. Population Projected To Decrease 81% By 2025
(346) May 22 2017 Frederick C. Blackburn – Freemasonry: Past, Present, And Future
(345) May 19 2017 Chris Petherick – This Week's American Free Press
(344) May 18 2017 Kevin Alfred Strom – National Alliance And National Vanguard
(343) May 17 2017 Andrew Carrington Hitchcock – In The Name Of Yahweh – Part 5 (37 B.C. – A.D. 30 – The Life Of Christ)
(342) May 16 2017 Ben Garrison – Www.GrrrGraphics.com
(341) May 15 2017 The EFR Pastors – Are We In The End Times?
(340) May 12 2017 Peter From Northern Ireland – Common Law & Your Strawman
(339) May 11 2017 Paul English – UK General Election 2017: Take Your Choice – Conservative Friends Of Israel Or Labour Friends Of Israel…
(338) May 10 2017 Andrew Carrington Hitchcock – In The Name Of Yahweh – Part 4 (1200 B.C. – 37 B.C.)
(337) May 9 2017 Dennis Fetcho – The Illuminatus Observor & Inside The Eye Live
(336) May 8 2017 Alison Chabloz – Free Speech
(335) May 5 2017 Mark Anderson – This Week's American Free Press
(334) May 4 2017 Dana Durnford – Fukushima: Past, Present, And Future
(333) May 3 2017 Andrew Carrington Hitchcock – In The Name Of Yahweh – Part 3 (1500 B.C. – 1200 B.C. – The Law – Part 2)
(332) May 2 2017 Mike King – M.S. King's, "The Bad War"
(331) May 1 2017 Michael Walsh – The Trials And Tribulations Of Publishing
(330) April 28 2017 Paul Angel – The Barnes Review March/April 2017
(329) April 27 2017 Frosty Wooldridge – The Most Violent Religion On Earth – Part 3
(328) April 26 2017 Andrew Carrington Hitchcock – In The Name Of Yahweh – Part 2 (1500 B.C. – 1200 B.C. – The Law – Part 1)
(327) April 25 2017 Dr. Adrian Krieg – The All Out War On Free Speech
(326) April 24 2017 Clint Lacy – Anomalies Surrounding The Death Of Jesse James
(325) April 21 2017 Chris Petherick – This Week's American Free Press
(324) April 20 2017 Frosty Wooldridge – The Most Violent Religion On Earth – Part 2
(323) April 19 2017 Andrew Carrington Hitchcock – In The Name Of Yahweh – Part 1 (Creation – 1500 B.C.)
(322) April 18 2017 Stephen Mitford Goodson – The Genocide Of The Boers
(321) April 17 2017 Harald Hesstvedt Scharnhorst – A Sage For The Age: Antony C. Sutton
(320) April 14 2017 Jez Turner – Free Speech
(319) April 13 2017 Frosty Wooldridge – The Most Violent Religion On Earth – Part 1
(318) April 12 2017 Andrew Carrington Hitchcock – The Synagogue Of Satan Updated, Expanded, And Uncensored – Part 15 (2008 – 2011)
(317) April 11 2017 David Meade – The Coup D'Etat Against President Donald J. Trump
(316) April 10 2017 Pastor Paul Mullett – Www.Divine-Truth.org
(315) April 7 2017 Mark Anderson – This Week's American Free Press
(314) April 6 2017 Frosty Wooldridge – The Environmental Effects Of Overpopulation Worldwide – Part 9
(313) April 5 2017 Andrew Carrington Hitchcock – The Synagogue Of Satan Updated, Expanded, And Uncensored – Part 14 (2002 – 2007)
(312) April 4 2017 Monica Stone – A Demonstration Of Yahweh's Love For His Children And How You Can Help One Of Them: Laurence Burns
(311) April 3 2017 Rick Tyler – Theodore G. Bilbo's – Take Your Choice – Separation Or Mongrelization – Part 2
(310) March 31 2017 Barbara Ann Nowak – No Help For The White Man
(309) March 30 2017 Rick Tyler – Theodore G. Bilbo's – Take Your Choice – Separation Or Mongrelization – Part 1
(308) March 29 2017 Andrew Carrington Hitchcock – The Synagogue Of Satan Updated, Expanded, And Uncensored – Part 13 (1992 – 2001)
(307) March 28 2017 Johannes Scharf – A New Dawn – Donald Trump's Victory Explained From A European Point Of View
(306) March 27 2017 Pastor Eli James – My Memories Of Nord Davis Jr.
(305) March 24 2017 Chris Petherick – This Week's American Free Press
(304) March 23 2017 Frosty Wooldridge – The Environmental Effects Of Overpopulation Worldwide – Part 8
(303) March 22 2017 Andrew Carrington Hitchcock – The Synagogue Of Satan Updated, Expanded, And Uncensored – Part 12 (1978 – 1991)
(302) March 21 2017 David Meade – Planet X – The 2017 Arrival
(301) March 20 2017 John Tiffany – Was Judaism An Invention Of The Persian Empire?
(300) March 17 2017 Lady Michéle Renouf – The Revisionist Heresy
(299) March 16 2017 Frosty Wooldridge – The Environmental Effects Of Overpopulation Worldwide – Part 7
(298) March 15 2017 Andrew Carrington Hitchcock – The Synagogue Of Satan Updated, Expanded, And Uncensored – Part 11 (1954 – 1977)
(297) March 14 2017 Taco Dankers – NGOs Behind Organized Invasion Of Europe
(296) March 13 2017 Sean And Mufidah Madden – GlaringHypocrisy.com
(295) March 10 2017 Mark Anderson – This Week's American Free Press
(294) March 9 2017 Frosty Wooldridge – The Environmental Effects Of Overpopulation Worldwide – Part 6
(293) March 8 2017 Andrew Carrington Hitchcock – The Synagogue Of Satan Updated, Expanded, And Uncensored – Part 10 (1938 – 1953)
(292) March 7 2017 Rick Tyler – Come To Republica!
(291) March 6 2017 John Friend – Anti-Semitism And Free Speech
(290) March 3 2017 Daryl Bradford Smith And Muhammad Rafeeq – Our Memories Of Eustace Mullins
(289) March 2 2017 Paul Angel – The Barnes Review January/February 2017
(288) March 1 2017 Andrew Carrington Hitchcock – The Synagogue Of Satan Updated, Expanded, And Uncensored – Part 9 (1920 – 1937)
(287) February 28 2017 V.P. Hughes – The History And Humanity Of John Singleton Mosby
(286) February 27 2017 Clint Lacy – The Copperheads – Northerners Against Federal Aggression
(285) February 24 2017 Mark Anderson – This Week's American Free Press
(284) February 23 2017 Frosty Wooldridge – The Environmental Effects Of Overpopulation Worldwide – Part 5
(283) February 22 2017 Andrew Carrington Hitchcock – The Synagogue Of Satan Updated, Expanded, And Uncensored – Part 8 (1920 – Henry Ford's The International Jew – Part 2)
(282) February 21 2017 Pastor Ken Gregg – Anatomy Of A Black On White Hate Crime
(281) February 20 2017 Rick Tyler – Make America White Again – Part 2
(280) February 17 2017 Mike Walsh-McLaughlin – My Memories Of John Tyndall
(279) February 16 2017 Frosty Wooldridge – The Environmental Effects Of Overpopulation Worldwide – Part 4
(278) February 15 2017 Andrew Carrington Hitchcock – The Synagogue Of Satan Updated, Expanded, And Uncensored – Part 7 (1920 – Henry Ford's The International Jew – Part 1)
(277) February 14 2017 Rick Tyler – Make America White Again – Part 1
(276) February 13 2017 April Renee And Gary Tunsky – Educate Before You Vaccinate
(275) February 10 2017 Mark Anderson – This Week's American Free Press
(274) February 9 2017 Frosty Wooldridge – The Environmental Effects Of Overpopulation Worldwide – Part 3
(273) February 8 2017 Andrew Carrington Hitchcock – The Synagogue Of Satan Updated, Expanded, And Uncensored – Part 6 (1898 – 1920)
(272) February 7 2017 Paul English – The Works Of Arnold Leese
(271) February 6 2017 Dr. Nick Begich – Weather Control, Mind Control, And Climate Change
(270) February 3 2017 Pastor Eli James – Proof Jesus Christ Was An Aryan
(269) February 2 2017 Frosty Wooldridge – The Environmental Effects Of Overpopulation Worldwide – Part 2
(268) February 1 2017 Andrew Carrington Hitchcock – The Synagogue Of Satan Updated, Expanded, And Uncensored – Part 5 (1897 – The Protocols 16 To 24)
(267) January 31 2017 John De Nugent – Andrew Macdonald's The Turner Diaries And Hunter
(266) January 30 2017 David James – Leonard Cohen's The Future
(265) January 27 2017 Mark Anderson – This Week's American Free Press
(264) January 26 2017 Dr. Adrian Krieg – Wilmot Robertson's The Dispossessed Majority – Part 2
(263) January 25 2017 Andrew Carrington Hitchcock – The Synagogue Of Satan Updated, Expanded, And Uncensored – Part 4 (1897 – The Protocols 10 To 15)
(262) January 24 2017 Frosty Wooldridge – The Environmental Effects Of Overpopulation Worldwide – Part 1
(261) January 23 2017 Art From Philly – NoPlaceForCorruption.com
(260) January 20 2017 Dr. Adrian Krieg – Wilmot Robertson's The Dispossessed Majority – Part 1
(259) January 19 2017 Frosty Wooldridge – America, Canada, And Western Countries Becoming The Third World's Refugee Camps – Part 3
(258) January 18 2017 Andrew Carrington Hitchcock – The Synagogue Of Satan Updated, Expanded, And Uncensored – Part 3 (1897 – The Protocols 1 To 9)
(257) January 17 2017 Paul English – Arthur Pillans Laurie's The Case For Germany
(256) January 16 2017 Pastor Thomas Robb – The Ku Klux Klan, The Knights Party, And The Christian Revival Center
(255) January 13 2017 Mark Anderson – This Week's American Free Press
(254) January 12 2017 Frosty Wooldridge – America, Canada, And Western Countries Becoming The Third World's Refugee Camps – Part 2
(253) January 11 2017 Andrew Carrington Hitchcock – The Synagogue Of Satan Updated, Expanded, And Uncensored – Part 2 (1827 – 1897)
(252) January 10 2017 Dr. Matthew Raphael Johnson – The Soviet Anti-Semitism Hoax – Stalin And The Church – Part 2
(251) January 9 2017 John De Nugent – Archibald Maule Ramsay's The Nameless War
(250) January 6 2017 Clint Lacy – All Of What You've Been Taught About The American Civil War Is Wrong!
(249) January 5 2017 Frosty Wooldridge – America, Canada, And Western Countries Becoming The Third World's Refugee Camps – Part 1
(248) January 4 2017 Andrew Carrington Hitchcock – The Synagogue Of Satan Updated, Expanded, And Uncensored – Part 1 (740 – 1827)
(247) January 3 2017 John Tiffany – The Case Of Algeria And Current Affairs
(246) January 2 2017 Paul English – Jewish Power Is The Power To Silence Criticism Of Jewish Power
Click Here For The Full Archive Of My 2018 Shows