By Andrew Carrington Hitchcock & Michael Walsh
In the course of producing and presenting, "The Andrew Carrington Hitchcock Show," on EuroFolkRadio.Com, I have had the opportunity to interview over 150 interesting guests, who have provided a wealth of information for the EuroFolkRadio audience.
One of these guests, Bernie Davids, ran the American Nazi Party's print shop for Commander George Lincoln Rockwell, and he now acts as the curator of the American Nazi Party archives.
Bernie recently uncovered some fascinating letters written by the legendary British Nationalist Leader, John Tyndall, who was active in British Nationalism for over 50 years.
The first letter (dated October 28th 1963), is of interest as it is written when Tyndall was National Secretary to the National Socialist Movement which was led by Colin Jordan. It is addressed to Capt. Seth D. Ryan, who was the editor of Rockwell's, bi-monthly "Stormtrooper," magazine.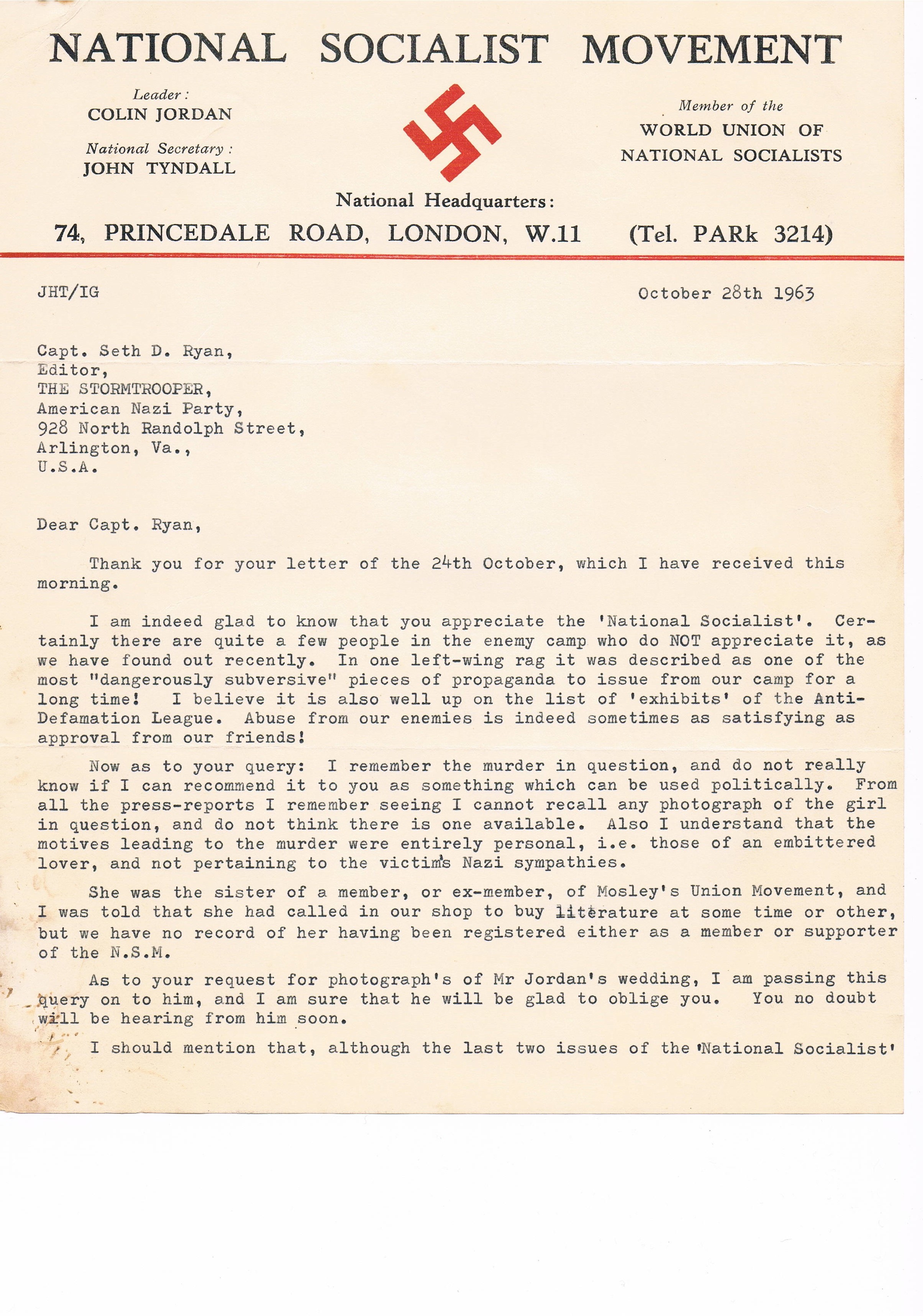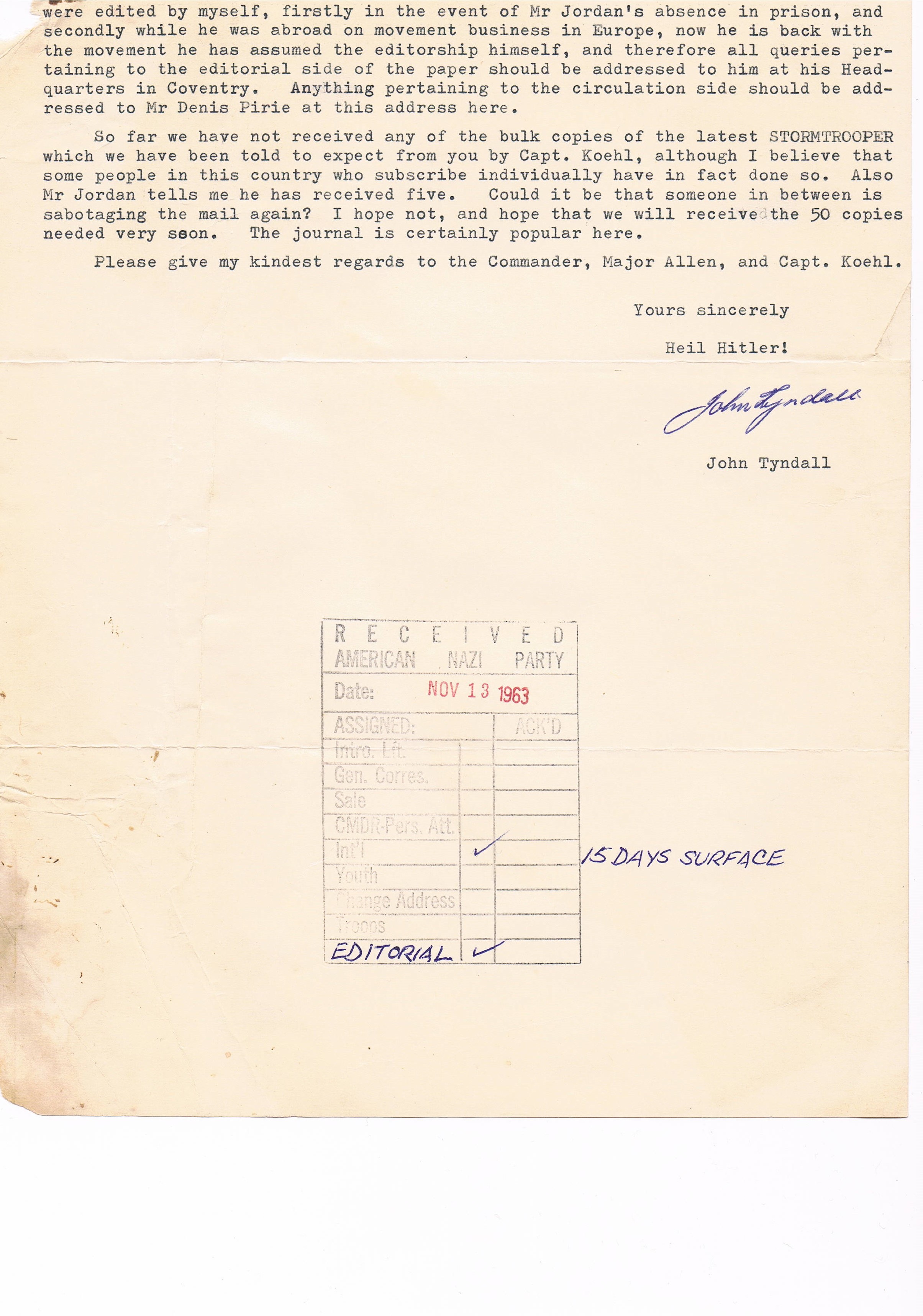 This letter sets the stage for the explosive letter that follows, this time written by Tyndall to Karl R. Allen, Rockwell's Deputy Commander of The American Nazi Party.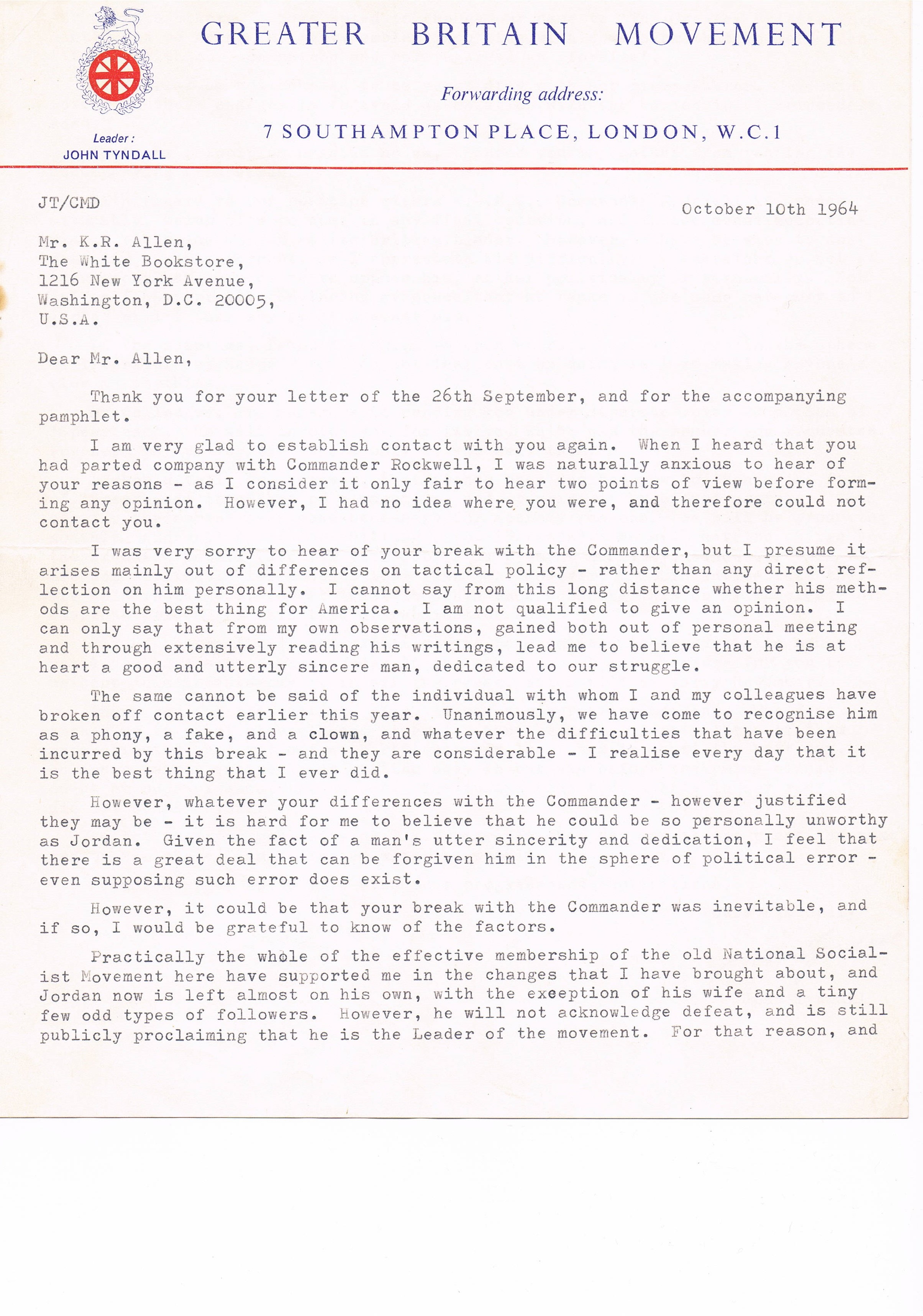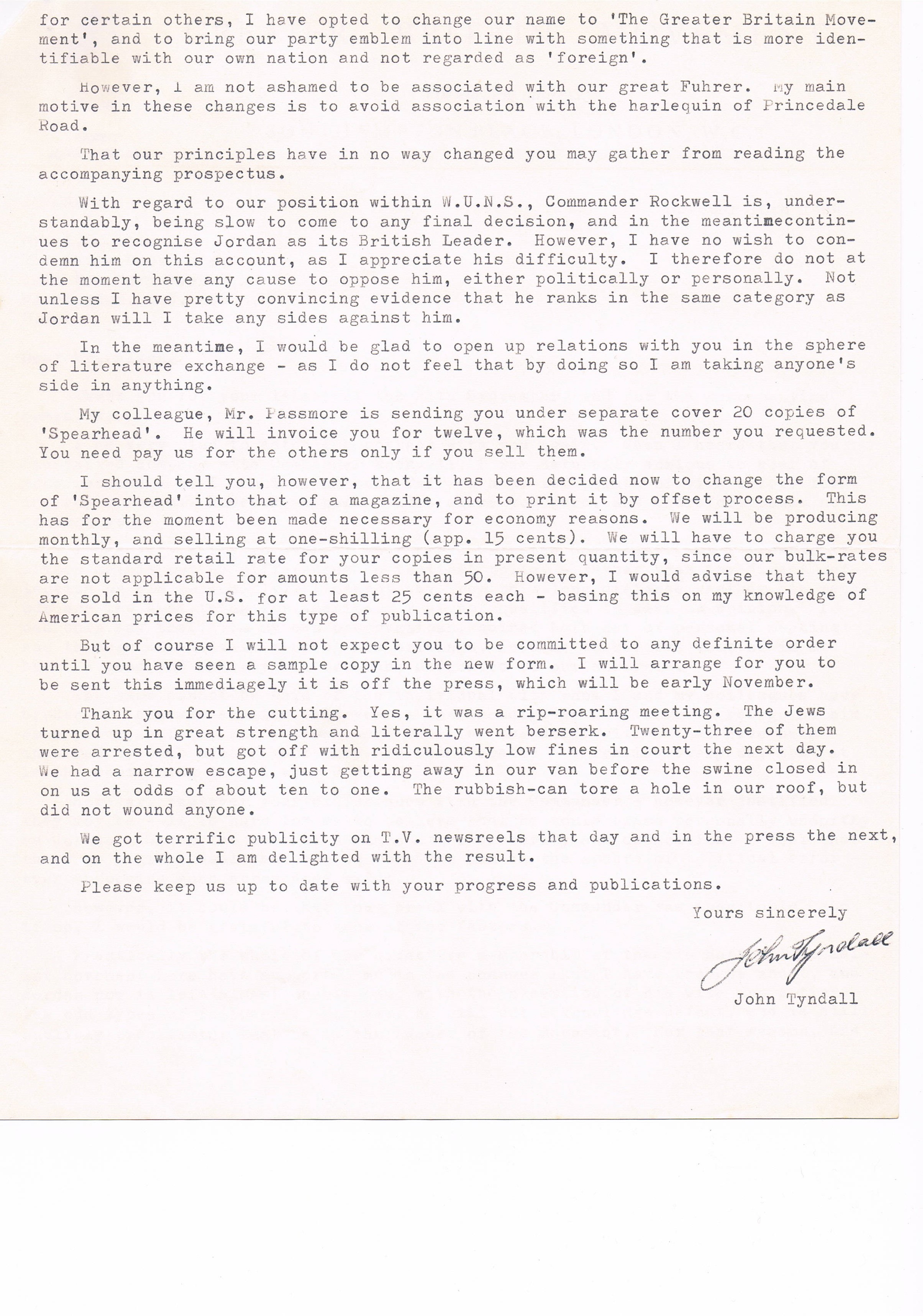 This letter is fascinating as it not only refers to Allen's split from Rockwell, but also Tyndall's split from Jordan. We can see from the letterhead that Tyndall has now established his own party, the Greater Britain Movement, and Allen is involved with The White Bookstore in Washington D.C.
Now we can move on to the final letter, again from Tyndall to Allen.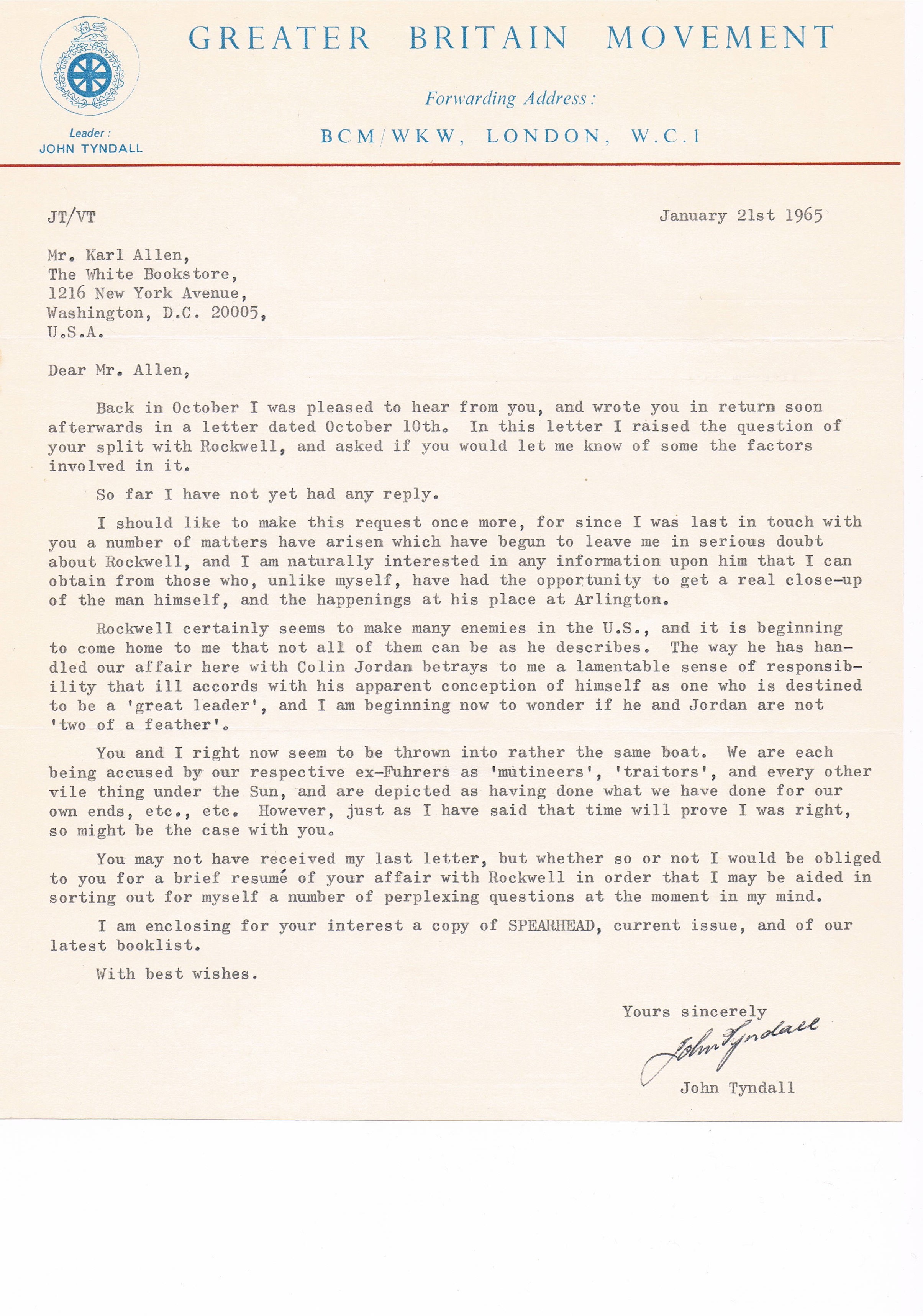 In this letter Tyndall expresses his concerns about Rockwell, which appear to derive from his interpretation that Rockwell has sided with Jordan over the Tyndall/Jordan split.
It is important to point out that Colin Jordan succeeded Arnold Leese who was the head of the Imperial Fascist League, Leese even left him a house in his will which Jordan used as a base for his White Defence League, which would morph into The National Socialist Movement.
Jordan's National Socialist Movement became the British Movement in 1968, at which time Michael McLaughlin (now known as Michael Walsh) joined the party, only to succeed Jordan as leader in 1974.
Michael Walsh, having collaborated with Jordan over six years, likely knew the enigmatic party-hopping firebrand better than anyone else, and he recollects his experiences with him below.
"When in 1968, the writer and broadcaster was a political novice, the wily veteran of the Notting Hill riots took full advantage of his latest recruit's naiveté.
Michael says, trustingly, inspired and encouraged by a leader I regarded as my mentor, Colin Jordan got me into one scrape with the law after another. He knew what he was doing; he once confided in me that his only regret in life was that he had chosen a teaching career rather than that of a lawyer. Jordan was fascinated by law and knew law as well as did any solicitor.
Years later, a combination of personal experiences and the recollections of others, like John Tyndall, convinced me that Jordan was working for MI5 and likely known to and funded by Comintern, the Communist International.
A Cambridge graduate, Jordan shared the life and times, perhaps acquaintances too, of the notorious Cambridge Five. These publicly schooled silver-tongued British traitors were afterwards revealed to be Soviet agents.
A major strategy in the game of political manipulation and control is to compromise adherents. Jordan's sexual inclinations were always obscure. Again, he confided in me that he wanted to end his days organising youth (boys) camps at his substantial farm holdings situated in the Yorkshire Moors.
Jordan's resigned his leadership of British Movement when he was apprehended after shoplifting fancy female underwear from a Jewish-owned supermarket. It didn't get any better; pursued by two teenage shop assistants, a cowering whimpering Jordan was held in a back street cul-de-sac until the police arrived to arrest him.
Jordan's name was later found on a register of users found at Elm House, a sordid address at which Britain's elite were compromised by their peccadilloes with underage solicited boys.
Tyndall later told me that he had information on Jordan that would totally destroy Jordan's reputation. Sadly, Tyndall died before opportunity arose. The media was soft on Jordan and Wikipedia launders Jordan's career. The write-up in its lack of venom is quite different from accounts printed of genuine leaders.
After Jordan's resignation, and his surrender of British Movement leadership to me, I achieved a success that always eluded Jordan. From the moment I took responsibility for the British Movement I suffered constant attacks from media, interrogations by the police, imprisonment, arrests, and leftist marauders.
Throughout this period, Colin Jordan was the most inflammatory critic off all. Sporadically, he continued to publish Gothic Ripples. The periodical was a publication started by not Colin Jordan but by Arnold Leese, whom Jordan filched the title from. According to John Tyndall and others in the then World Union of National Socialists (WUNS), 78 Princedale Road was given to the National Socialist group as a bequest of Arnold Leese. The bequest included a proviso that the address be always used for National Socialist aka anti-Zionist activity. The large house was later sold, the proceeds of which found their way into Jordan's bank account.
When Jordan died in 2009 at the age of 86 he left a substantial bequest to a woman of, I believe, Hungarian origin. Who was she and what was her role during the Soviet occupation of Hungary? How is it that before the internet age Jordan and this enigmatic female should form a relationship."
As we can see from the letters in this article, infighting amongst Nationalist groups whether in Britain or America is nothing new. It almost appears to have been engineered that way in order to prevent Nationalism rising as an effective opposition to the Social Marxism we have today.
Could that be why the recent, "Unite The Right," protest in Charlottesville was targeted by the Communist Antifa? I wonder…
Michael Walsh is a freelance journalist and the creator of the excellent news site, "The Ethnic-European." He is also the co-host of, "The Ethnic-European With Mike And Andy," which you can catch every Wednesday on EuroFolkRadio.Com at 10AM EASTERN / 3pm UK.
Click Here For Mike's The Ethnic European Website
Click Here For Mike's Ghost Writing Website
Andrew Carrington Hitchcock & Michael Walsh
November 14, 2017