On February 26th 2017, Robert Rozett, director of the Yad Vashem Holocaust museum called on the online retailer Amazon to remove books that deny the Holocaust from its websites.
What have I repeatedly told you folks?
I have said time and time again on my radio shows, that you need to make sure you download these shows as they will not be around forever.
Well, today the first shot was fired. My book, "The Synagogue Of Satan – Updated, Expanded, And Uncensored," has been banned by Amazon.
I just received this email:
Hello,
We're contacting you regarding the following book:
Title : The Synagogue Of Satan (ID:2223648)
During our review process, we found that this content is in violation of our content guidelines. As a result, we cannot offer this book for sale. If we identify additional submissions with similar content that violates our guidelines you may lose access to optional KDP services and/or face account level actions up to and including termination.
To learn more about our content guidelines, please visit our Kindle Direct Publishing Help page at:
https://kdp.amazon.com/help?topicId=A2TOZW0SV7IR1U
Best regards,
Amazon KDP
http://kdp.amazon.com
Best Regards,
Benedicte K.
Amazon.com
Your feedback is helping us build Earth's Most Customer-Centric Company.
Make of that last line, "Your feedback is helping us build Earth's Most Customer-Centric Company," what you will…
This has only been a matter of time in coming, as on October 17th 2013, Robert Singer, the Executive Vice President and CEO the World Jewish Congress, sent an open letter to Amazon CEO Jeff Bezos entitled, "Don't sell books that deny the Holocaust, WJC urges Amazon.com," which you can view at the link below.
Don't sell books that deny the Holocaust, WJC urges Amazon.com
Also see their deceptive technique of expressing apoplectic indignation in order to garner sympathy in the 2 minute YouTube below.  To this day I have not seen one Jewish organisation publish any of the content of my book and dispute it.  They simply don't want you to see it, as it is a comprehensive guide of their criminal activities going back hundreds of years.
Today has indeed been a historic day in shutting down free speech, so far loads of holocaust revisionist books have been banned, as has M.S. King's, "The Bad War," and Texe Marrs, "Holy Serpent Of The Jews," which like my book barely touch on the holocaust issue.  Incidentally my good friend, Mike Walsh-McLaughlin, had his books taken down by Amazon a couple of months ago.
Amazon Mass-Bans Dissident Materials
"The Bad War," has been Banned By Amazon!
Click Here For Mike Walsh-McLaughlin's Article On The Capitulation Of Amazon
Fortunately you can still purchase, "The Synagogue Of Satan – Updated, Expanded, And Uncensored," direct from the publisher here:
Click Here To Buy The Book Direct From The Publisher
I also have a limited number of signed copies available (if you want one of these, be sure to let me know the name of the person you want the book signed to, otherwise I will simply sign and date the book.)
Click Here For The Andrew Carrington Hitchcock Signed Bookstore
Why do you think today was chosen for a mass censoring of books that offend the Jews? Well it might have something to do with the fact that their celebration of Purim starts today, March 9 2017.
And what is Purim? Purim is an annual holiday in the Jewish calendar, when they celebrate their victory over ancient Babylon, which in recent times has become a day in which Jews take revenge against their enemies.
On the day of Purim in 1991, President George H.W. Bush declared a cessation of hostilities against Iraq, after he had ordered United States troops to massacre 150,000 surrendering Iraqi troops and bulldoze them (some still alive) into mass unmarked graves in the desert.
On the day of Purim in 1994, Dr. Baruch Kappel Goldstein (who served as a physician in the Israeli Defense Force), entered Israel's Cave of the Patriachs mosque, shot 29 Muslims to death and injured 125 others. His grave is remembered in posterity as a site of pilgrimage for many Jews, indeed the inscription on his grave-site reads,
"Here lies the saint, Dr. Baruch Kappel Goldstein, blessed be the memory of the righteous and holy man, may the Lord avenge his blood, who devoted his soul to the Jews, Jewish religion and Jewish land. His hands are innocent and his heart is pure. He was killed as a martyr of God on the 14th of Adar, Purim, in the year 5754."
Finally proving the old adage that, "the apple doesn't fall far from the tree," President George W. Bush declared war on Iraq on March 19th 2003, again the day of Purim.
Interestingly the ancient nation of Babylon falls within the borders of Iraq.
Let's wrap this article up by stating what historically has been one of the Jews' most favorite weapons?  Economic Boycotts!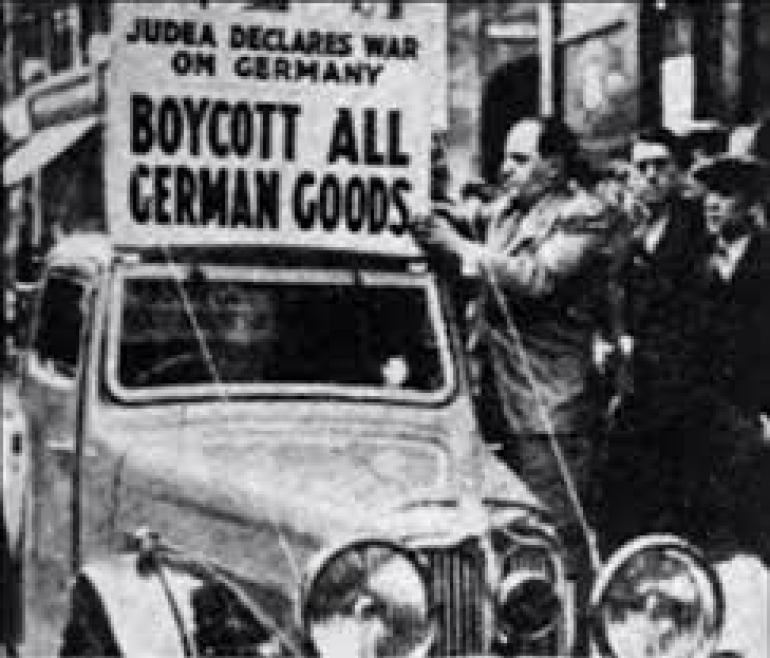 When is Purim in 2017, 2018, 2019, 2020?
On that basis I think there can be little doubt that the Jews' chosen enemy for their celebration of Purim in 2017 is free speech.
Andrew Carrington Hitchcock
March 9th, 2017
UPDATED – March 25th, 2017
You can listen to me reading this article by left clicking the link below. You can download this audio by right clicking the link, then left clicking "save link as…" and finally left clicking the "save" button.
Audio Book Of Amazon Has BANNED, "The Synagogue Of Satan – Updated, Expanded, And Uncensored."