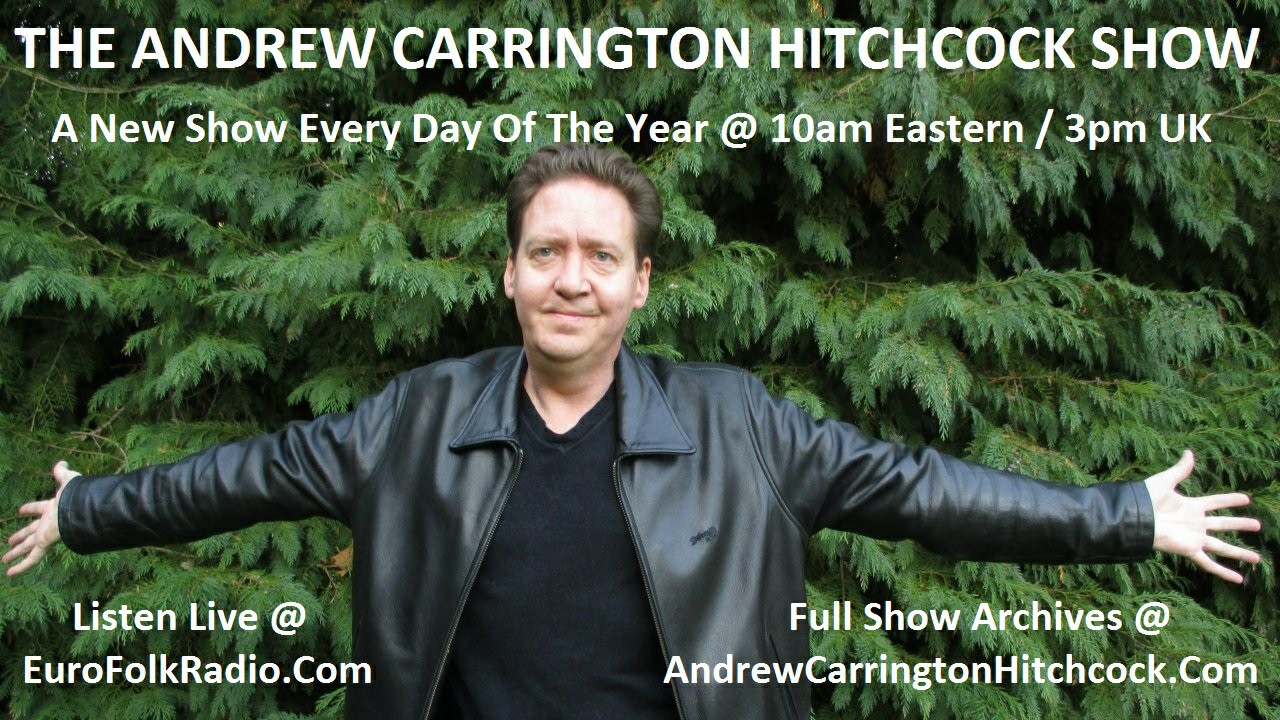 The Andrew Carrington Hitchcock Show is a daily 1 hour show in which I talk to a variety of guests.
Since October 30 2017, I have been broadcasting a new show every day of the year.
You can listen to each show by left clicking the link. You can download each show by right clicking the link, then left clicking "save link as…" and finally left clicking the "save" button.
(483) November 21 2017 Alfred Schaefer – This Is Not A Game!
(482) November 20 2017 Dr. Adrian Krieg – Almost Live With Adrian And Andy #4
(481) November 19 2017 Paul English – Infidels Of Britain – Part 1
(480) November 18 2017 Dr. Eric Karlstrom – Ode To Jimmy
(479) November 17 2017 Gertjan Zwiggelaar – Down The Rabbit Hole With Gertjan And Andy #3
(478) November 16 2017 Bernie Davids – The American Nazi Party Archives – Part 2
(477) November 15 2017 Michael Walsh – The Ethnic European With Mike And Andy #3
(476) November 14 2017 John Tiffany – Just How Long Will State Song Survive & Cherokee General Was Last To Surrender
(475) November 13 2017 Dr. Adrian Krieg – Almost Live With Adrian And Andy #3
(474) November 12 2017 Paul English – Remembering The Harrowing Last Moments Of Lesley Ann Downey
(473) November 11 2017 Professor Ray Goodwin – Slavery Or Tariffs: What Really Caused Secession?
(472) November 10 2017 Gertjan Zwiggelaar – Down The Rabbit Hole With Gertjan And Andy #2
(471) November 9 2017 Dr. Matthew Raphael Johnson – Lessons From Charlottesville
(470) November 8 2017 Michael Walsh – The Ethnic European With Mike And Andy #2
(469) November 7 2017 Dr. Eric Karlstrom – Weather Warfare As State Sponsored Terrorism
(468) November 6 2017 Dr. Adrian Krieg – Almost Live With Adrian And Andy #2
(467) November 5 2017 Paul English – Guy Fawkes Night
(466) November 4 2017 Gene Andrews – The Truth About The Fort Pillow Massacre
(465) November 3 2017 Gertjan Zwiggelaar – Down The Rabbit Hole With Gertjan And Andy #1
(464) November 2 2017 Karin Smith – South Africa: Past, Present, And Future
(463) November 1 2017 Michael Walsh – The Ethnic European With Mike And Andy #1
(462) October 31 2017 John Friend – The Great History Heist
(461) October 30 2017 Dr. Adrian Krieg – Almost Live With Adrian And Andy #1
(460) October 27 2017 Gertjan Zwiggelaar – Almost Live With Andy And Gertjan #7
(459) October 26 2017 Harald Hesstvedt Scharnhorst – Rebel Private: Front And Rear
(458) October 25 2017 Clint Lacy – 15 Minutes To Leave: The Missouri Exodus
(457) October 24 2017 John Fitzgerald – J.D. Salinger & The WW2 Counterintelligence Corps
(456) October 23 2017 Rae West – How Education And Propaganda Are Intertwined
(455) October 20 2017 Gertjan Zwiggelaar – Almost Live With Andy And Gertjan #6
(454) October 19 2017 Gerhard Lauck – Censor-Free.com
(453) October 18 2017 Dr. Eric Karlstrom – The Frankfurt School And Cultural Marxism
(452) October 17 2017 Rick Adams – Signs Of The End Times
(451) October 16 2017 Thomas Goodrich – Introducing Tom's Books
(450) October 13 2017 Gertjan Zwiggelaar – Almost Live With Andy And Gertjan #5
(449) October 12 2017 The EFR Pastors – Introducing Christian Identity…
(448) October 11 2017 Paul English – Is Monty Python's Life Of Brian Blasphemous?
(447) October 10 2017 Michael Walsh – The Coming Economic Collapse…
(446) October 9 2017 Dr. Adrian Krieg – The Class Action Contingency Suit Against The SPLC
(445) October 6 2017 Gertjan Zwiggelaar – Almost Live With Andy And Gertjan #4
(444) October 5 2017 Brian Ruhe – Behind The Scenes Of A Truth Movement Show
(443) October 4 2017 David Meade – Planet X: FINAL WARNING!
(442) October 3 2017 Dr. Eric Karlstrom – The Links Between 911 And Gangstalking
(441) October 2 2017 Bernie Davids – The Rockwell Report & The Hutschnecker Report
(440) September 29 2017 Gertjan Zwiggelaar – Almost Live With Andy And Gertjan #3
(439) September 28 2017 Miriam Al Fatah – Libya: Past, Present, And Future
(438) September 27 2017 Paul Angel – The New Barnes Review Edition Of The Synagogue Of Satan: Updated, Expanded & Uncensored
(437) September 26 2017 Dana Durnford – How The Fukushima Disaster Will Destroy The World
(436) September 25 2017 James Bacque – Other Losses & Crimes And Mercies
(435) September 22 2017 Dr. David Duke – My Awakening
(434) September 21 2017 The EFR Pastors – Identifying The Beast…
(433) September 20 2017 Jim Rizoli – The Synagogue Of Satan Updated, Expanded, And Uncensored
(432) September 19 2017 Paul Angel – Introducing The Barnes Review's September/October 2017 Special Edition: Defending Dixie
(431) September 18 2017 Rae West – Big-Lies.Org – Part 2
(430) September 15 2017 Gertjan Zwiggelaar – Almost Live With Andy And Gertjan #2
(429) September 14 2017 Paul Fromm – Not Enough Free Speech And Too Much Immigration
(428) September 13 2017 Pastor Dan Johns – MGTOW (Men Going Their Own Way)
(427) September 12 2017 Mark Anderson – The September 11 & 18 2017 Issue Of The American Free Press
(426) September 11 2017 Dr. Eric Karlstrom – Dr. Karlstrom's Research On 9/11
(425) September 8 2017 Gertjan Zwiggelaar – Almost Live With Andy And Gertjan #1
(424) September 7 2017 Monica Stone – Communism Is Alive And Well In South Africa…And The World
(423) September 6 2017 Dr. Eric Karlstrom – Gangstalking As Part Of Project Lucifer
(422) September 5 2017 Julie Jansen van Rensberg – The Nicolaas van Rensburg Prophecies
(421) September 4 2017 Ted Midward – Caucasian Christian Communications
(420) September 1 2017 Diane King And Jim Rizoli – Our Journey To The Truth
(419) August 31 2017 Michael Walsh – The Voice Of Ethnic Europeans Worldwide
(418) August 30 2017 Gertjan Zwiggelaar – To Learn Who Rules Over You, Simply Find Out Who You Are Not Allowed To Criticize
(417) August 29 2017 Mark Anderson – The August 28 & September 4 2017 Issue Of The American Free Press
(416) August 28 2017 Dr. Adrian Krieg – The Ordinary Life Of A 20th Century Renaissance Man
(415) August 25 2017 Michael Walsh – Surveillance: Past, Present, And Future
(414) August 24 2017 Renate Detels – The Experiences Of A Targeted Individual
(413) August 23 2017 Dr. Eric Karlstrom – The Gangstalking Of A Targeted Individual
(412) August 22 2017 Robert Gaylon Ross – Who's Who Of The Elite & The Elite Control Everything Of Significance
(411) August 21 2017 Dr. James David Manning – The Life Story And Thoughts Of Dr. James David Manning
(410) August 18 2017 Rae West – www.Big-Lies.org
(409) August 17 2017 John Kaminski – www.JohnKaminski.org
(408) August 16 2017 Walter Burien – Comprehensive Annual Financial Reports Exposed
(407) August 15 2017 Mark Anderson – The August 14 & 21 2017 Edition Of The American Free Press
(406) August 14 2017 Dr. Lorraine Day – The Ernst And Ingrid Zundel Story
(405) August 11 2017 Harald Hesstvedt Scharnhorst – Tunnel Rats Of Vietnam
(404) August 10 2017 Jacob Tyler – The Persecution Of Samuel Girod
(403) August 9 2017 Stephen Mitford Goodson – The Banking Scam Explained In The Simplest Possible Manner
(402) August 8 2017 The EFR Pastors – Sodom And Gomorrah In The End Times
(401) August 7 2017 Michael Walsh – Zhukov: Wretched Marshall Of The USSR
(400) August 4 2017 Dr. Adrian Krieg – My First Days In The White House
(399) August 3 2017 Robert Gaylon Ross – The Clint Murchison Meeting
(398) August 2 2017 Gertjan Zwiggelaar – How The Whites Are Persecuted In White Nations For Being White
(397) August 1 2017 Mark Anderson – The July 31 & August 7 2017 Edition Of The American Free Press
(396) July 31 2017 Michael Walsh – Laurence Burns's, "The Adversary."
(395) July 28 2017 David Meade – The Prepper's Guide To Surviving EMP Attacks, Solar Flares And Grid Failures
(394) July 27 2017 Ian Verner Macdonald – Star Weekly At War
(393) July 26 2017 Ognir – The Info Underground
(392) July 25 2017 Robert Gaylon Ross – Introducing The Elites
(391) July 24 2017 Dr. Adrian Krieg – Invasions!!! Their Documented Historical Relevance
(390) July 21 2017 Jan Lamprecht – The Planned Genocide Of South Africa's White Population
(389) July 20 2017 William Johnson – The American Freedom Party
(388) July 19 2017 Bernie Davids – The American Nazi Party Archives – Part 1
(387) July 18 2017 Mark Anderson – This Week's American Free Press
(386) July 17 2017 Harald Hesstvedt Scharnhorst – An Immigrant Remembers
(385) July 14 2017 Michael Walsh – Europe Arise
(384) July 13 2017 Dr. Adrian Krieg – The Thoughts Of Dr. Adrian Krieg
(383) July 12 2017 Dion From Radio Wehrwolf – How To Use Saul Alinsky's Rules For Radicals Against The Left
(382) July 11 2017 The EFR Pastors – Psalm 137
(381) July 10 2017 Gertjan Zwiggelaar – Islam And Judaism: Two Wings Of The Same Bird
(380) July 7 2017 Monika Schaefer – Sorry Mom, I Was Wrong About The Holocaust
(379) July 6 2017 Ian Verner Macdonald – Ian's Life And The Truth About Winston Churchill
(378) July 5 2017 David John Oates – An Introduction To Reverse Speech
(377) July 4 2017 Andrew Carrington Hitchcock – This Week's American Free Press
(376) July 3 2017 Pat Shannan – Fake History Is Nothing New
(375) June 30 2017 Michael Walsh – Remembering Edith Piaf And You Can't Fix Stupid
(374) June 29 2017 Paul Angel – The Barnes Review May/June 2017
(373) June 28 2017 John Friend – Operation Mockingbird: How The CIA Controls The News
(372) June 27 2017 Germar Rudolf – Court Historians Demand Proof That Camps Not For Killing
(371) June 26 2017 John Tiffany – The Amazing Francis Bacon & A War Declared On Free Speech
(370) June 23 2017 Evelyn Hutcheson – Matt Hale: A Mother's Quest For Justice
(369) June 22 2017 Dr. Tomislav Sunic – Against Democracy And Equality
(368) June 21 2017 Harry Cooper – Adolf Hitler In Argentina
(367) June 20 2017 Mark Anderson – This Week's American Free Press
(366) June 19 2017 Michael Walsh – Jean Raspail's, "The Camp Of The Saints."
(365) June 16 2017 Dave Gahary – The Barnes Review Interview
(364) June 15 2017 Sean Maguire – Out Of The Bag
(363) June 14 2017 Werner Bock – A Farmer's Ordeal
(362) June 13 2017 Patricia Aiken – The Hammonds, The Bundys, And The Assassination Of LaVoy Finicum
(361) June 12 2017 Jan Lamprecht – The Great Jewish Masque
(360) June 9 2017 Clint Richardson – Strawman: The Real Story Of Your Artificial Person
(359) June 8 2017 Dave Gahary And Phil Tourney – Erasing The Liberty: The 50th Anniversary Of Israel's Attack On America
(358) June 7 2017 Brendon O'Connell – Strategies We Can Use To Tackle Jewish Power
(357) June 6 2017 Dr. Eric Karlstrom – Update On Gang Stalking
(356) June 5 2017 Dr. Fredrick Toben – Dr. Toben's Wikipedia Page
(355) June 2 2017 Dr. Adrian Krieg – This Week's American Free Press
(354) June 1 2017 Ole Dammegard – False Flag Attacks
(353) May 31 2017 Andrew Carrington Hitchcock – The Complete Articles From My Website
(352) May 30 2017 Jez Turner – The Underhand Unofficial Secret Censorship
(351) May 29 2017 Mark R. Elsis – The Most Comprehensive Timeline Of John Fitzgerald Kennedy
(350) May 26 2017 Randy Gray – What Would Our Founding Fathers Do Today?
(349) May 25 2017 Alfred Schaefer – The Situation In Germany
(348) May 24 2017 Andrew Carrington Hitchcock – In The Name Of Yahweh – Part 6 (A.D. 30 – A.D. 100 – The Last Days)
(347) May 23 2017 Michael Walsh – U.S.A. Population Projected To Decrease 81% By 2025
(346) May 22 2017 Frederick C. Blackburn – Freemasonry: Past, Present, And Future
(345) May 19 2017 Chris Petherick – This Week's American Free Press
(344) May 18 2017 Kevin Alfred Strom – National Alliance And National Vanguard
(343) May 17 2017 Andrew Carrington Hitchcock – In The Name Of Yahweh – Part 5 (37 B.C. – A.D. 30 – The Life Of Christ)
(342) May 16 2017 Ben Garrison – Www.GrrrGraphics.com
(341) May 15 2017 The EFR Pastors – Are We In The End Times?
(340) May 12 2017 Peter From Northern Ireland – Common Law & Your Strawman
(339) May 11 2017 Paul English – UK General Election 2017: Take Your Choice – Conservative Friends Of Israel Or Labour Friends Of Israel…
(338) May 10 2017 Andrew Carrington Hitchcock – In The Name Of Yahweh – Part 4 (1200 B.C. – 37 B.C.)
(337) May 9 2017 Dennis Fetcho – The Illuminatus Observor & Inside The Eye Live
(336) May 8 2017 Alison Chabloz – Free Speech
(335) May 5 2017 Mark Anderson – This Week's American Free Press
(334) May 4 2017 Dana Durnford – Fukushima: Past, Present, And Future
(333) May 3 2017 Andrew Carrington Hitchcock – In The Name Of Yahweh – Part 3 (1500 B.C. – 1200 B.C. – The Law – Part 2)
(332) May 2 2017 Mike King – M.S. King's, "The Bad War"
(331) May 1 2017 Michael Walsh – The Trials And Tribulations Of Publishing
(330) April 28 2017 Paul Angel – The Barnes Review March/April 2017
(329) April 27 2017 Frosty Wooldridge – The Most Violent Religion On Earth – Part 3
(328) April 26 2017 Andrew Carrington Hitchcock – In The Name Of Yahweh – Part 2 (1500 B.C. – 1200 B.C. – The Law – Part 1)
(327) April 25 2017 Dr. Adrian Krieg – The All Out War On Free Speech
(326) April 24 2017 Clint Lacy – Anomalies Surrounding The Death Of Jesse James
(325) April 21 2017 Chris Petherick – This Week's American Free Press
(324) April 20 2017 Frosty Wooldridge – The Most Violent Religion On Earth – Part 2
(323) April 19 2017 Andrew Carrington Hitchcock – In The Name Of Yahweh – Part 1 (Creation – 1500 B.C.)
(322) April 18 2017 Stephen Mitford Goodson – The Genocide Of The Boers
(321) April 17 2017 Harald Hesstvedt Scharnhorst – A Sage For The Age: Antony C. Sutton
(320) April 14 2017 Jez Turner – Free Speech
(319) April 13 2017 Frosty Wooldridge – The Most Violent Religion On Earth – Part 1
(318) April 12 2017 Andrew Carrington Hitchcock – The Synagogue Of Satan Updated, Expanded, And Uncensored – Part 15 (2008 – 2011)
(317) April 11 2017 David Meade – The Coup D'Etat Against President Donald J. Trump
(316) April 10 2017 Pastor Paul Mullett – Www.Divine-Truth.org
(315) April 7 2017 Mark Anderson – This Week's American Free Press
(314) April 6 2017 Frosty Wooldridge – The Environmental Effects Of Overpopulation Worldwide – Part 9
(313) April 5 2017 Andrew Carrington Hitchcock – The Synagogue Of Satan Updated, Expanded, And Uncensored – Part 14 (2002 – 2007)
(312) April 4 2017 Monica Stone – A Demonstration Of Yahweh's Love For His Children And How You Can Help One Of Them: Laurence Burns
(311) April 3 2017 Rick Tyler – Theodore G. Bilbo's – Take Your Choice – Separation Or Mongrelization – Part 2
(310) March 31 2017 Barbara Ann Nowak – No Help For The White Man
(309) March 30 2017 Rick Tyler – Theodore G. Bilbo's – Take Your Choice – Separation Or Mongrelization – Part 1
(308) March 29 2017 Andrew Carrington Hitchcock – The Synagogue Of Satan Updated, Expanded, And Uncensored – Part 13 (1992 – 2001)
(307) March 28 2017 Johannes Scharf – A New Dawn – Donald Trump's Victory Explained From A European Point Of View
(306) March 27 2017 Pastor Eli James – My Memories Of Nord Davis Jr.
(305) March 24 2017 Chris Petherick – This Week's American Free Press
(304) March 23 2017 Frosty Wooldridge – The Environmental Effects Of Overpopulation Worldwide – Part 8
(303) March 22 2017 Andrew Carrington Hitchcock – The Synagogue Of Satan Updated, Expanded, And Uncensored – Part 12 (1978 – 1991)
(302) March 21 2017 David Meade – Planet X – The 2017 Arrival
(301) March 20 2017 John Tiffany – Was Judaism An Invention Of The Persian Empire?
(300) March 17 2017 Lady Michéle Renouf – The Revisionist Heresy
(299) March 16 2017 Frosty Wooldridge – The Environmental Effects Of Overpopulation Worldwide – Part 7
(298) March 15 2017 Andrew Carrington Hitchcock – The Synagogue Of Satan Updated, Expanded, And Uncensored – Part 11 (1954 – 1977)
(297) March 14 2017 Taco Dankers – NGOs Behind Organized Invasion Of Europe
(296) March 13 2017 Sean And Mufidah Madden – GlaringHypocrisy.com
(295) March 10 2017 Mark Anderson – This Week's American Free Press
(294) March 9 2017 Frosty Wooldridge – The Environmental Effects Of Overpopulation Worldwide – Part 6
(293) March 8 2017 Andrew Carrington Hitchcock – The Synagogue Of Satan Updated, Expanded, And Uncensored – Part 10 (1938 – 1953)
(292) March 7 2017 Rick Tyler – Come To Republica!
(291) March 6 2017 John Friend – Anti-Semitism And Free Speech
(290) March 3 2017 Daryl Bradford Smith And Muhammad Rafeeq – Our Memories Of Eustace Mullins
(289) March 2 2017 Paul Angel – The Barnes Review January/February 2017
(288) March 1 2017 Andrew Carrington Hitchcock – The Synagogue Of Satan Updated, Expanded, And Uncensored – Part 9 (1920 – 1937)
(287) February 28 2017 V.P. Hughes – The History And Humanity Of John Singleton Mosby
(286) February 27 2017 Clint Lacy – The Copperheads – Northerners Against Federal Aggression
(285) February 24 2017 Mark Anderson – This Week's American Free Press
(284) February 23 2017 Frosty Wooldridge – The Environmental Effects Of Overpopulation Worldwide – Part 5
(283) February 22 2017 Andrew Carrington Hitchcock – The Synagogue Of Satan Updated, Expanded, And Uncensored – Part 8 (1920 – Henry Ford's The International Jew – Part 2)
(282) February 21 2017 Pastor Ken Gregg – Anatomy Of A Black On White Hate Crime
(281) February 20 2017 Rick Tyler – Make America White Again – Part 2
(280) February 17 2017 Mike Walsh-McLaughlin – My Memories Of John Tyndall
(279) February 16 2017 Frosty Wooldridge – The Environmental Effects Of Overpopulation Worldwide – Part 4
(278) February 15 2017 Andrew Carrington Hitchcock – The Synagogue Of Satan Updated, Expanded, And Uncensored – Part 7 (1920 – Henry Ford's The International Jew – Part 1)
(277) February 14 2017 Rick Tyler – Make America White Again – Part 1
(276) February 13 2017 April Renee And Gary Tunsky – Educate Before You Vaccinate
(275) February 10 2017 Mark Anderson – This Week's American Free Press
(274) February 9 2017 Frosty Wooldridge – The Environmental Effects Of Overpopulation Worldwide – Part 3
(273) February 8 2017 Andrew Carrington Hitchcock – The Synagogue Of Satan Updated, Expanded, And Uncensored – Part 6 (1898 – 1920)
(272) February 7 2017 Paul English – The Works Of Arnold Leese
(271) February 6 2017 Dr. Nick Begich – Weather Control, Mind Control, And Climate Change
(270) February 3 2017 Pastor Eli James – Proof Jesus Christ Was An Aryan
(269) February 2 2017 Frosty Wooldridge – The Environmental Effects Of Overpopulation Worldwide – Part 2
(268) February 1 2017 Andrew Carrington Hitchcock – The Synagogue Of Satan Updated, Expanded, And Uncensored – Part 5 (1897 – The Protocols 16 To 24)
(267) January 31 2017 John De Nugent – Andrew Macdonald's The Turner Diaries And Hunter
(266) January 30 2017 David James – Leonard Cohen's The Future
(265) January 27 2017 Mark Anderson – This Week's American Free Press
(264) January 26 2017 Dr. Adrian Krieg – Wilmot Robertson's The Dispossessed Majority – Part 2
(263) January 25 2017 Andrew Carrington Hitchcock – The Synagogue Of Satan Updated, Expanded, And Uncensored – Part 4 (1897 – The Protocols 10 To 15)
(262) January 24 2017 Frosty Wooldridge – The Environmental Effects Of Overpopulation Worldwide – Part 1
(261) January 23 2017 Art From Philly – NoPlaceForCorruption.com
(260) January 20 2017 Dr. Adrian Krieg – Wilmot Robertson's The Dispossessed Majority – Part 1
(259) January 19 2017 Frosty Wooldridge – America, Canada, And Western Countries Becoming The Third World's Refugee Camps – Part 3
(258) January 18 2017 Andrew Carrington Hitchcock – The Synagogue Of Satan Updated, Expanded, And Uncensored – Part 3 (1897 – The Protocols 1 To 9)
(257) January 17 2017 Paul English – Arthur Pillans Laurie's The Case For Germany
(256) January 16 2017 Pastor Thomas Robb – The Ku Klux Klan, The Knights Party, And The Christian Revival Center
(255) January 13 2017 Mark Anderson – This Week's American Free Press
(254) January 12 2017 Frosty Wooldridge – America, Canada, And Western Countries Becoming The Third World's Refugee Camps – Part 2
(253) January 11 2017 Andrew Carrington Hitchcock – The Synagogue Of Satan Updated, Expanded, And Uncensored – Part 2 (1827 – 1897)
(252) January 10 2017 Dr. Matthew Raphael Johnson – The Soviet Anti-Semitism Hoax – Stalin And The Church – Part 2
(251) January 9 2017 John De Nugent – Archibald Maule Ramsay's The Nameless War
(250) January 6 2017 Clint Lacy – All Of What You've Been Taught About The American Civil War Is Wrong!
(249) January 5 2017 Frosty Wooldridge – America, Canada, And Western Countries Becoming The Third World's Refugee Camps – Part 1
(248) January 4 2017 Andrew Carrington Hitchcock – The Synagogue Of Satan Updated, Expanded, And Uncensored – Part 1 (740 – 1827)
(247) January 3 2017 John Tiffany – The Case Of Algeria And Current Affairs
(246) January 2 2017 Paul English – Jewish Power Is The Power To Silence Criticism Of Jewish Power