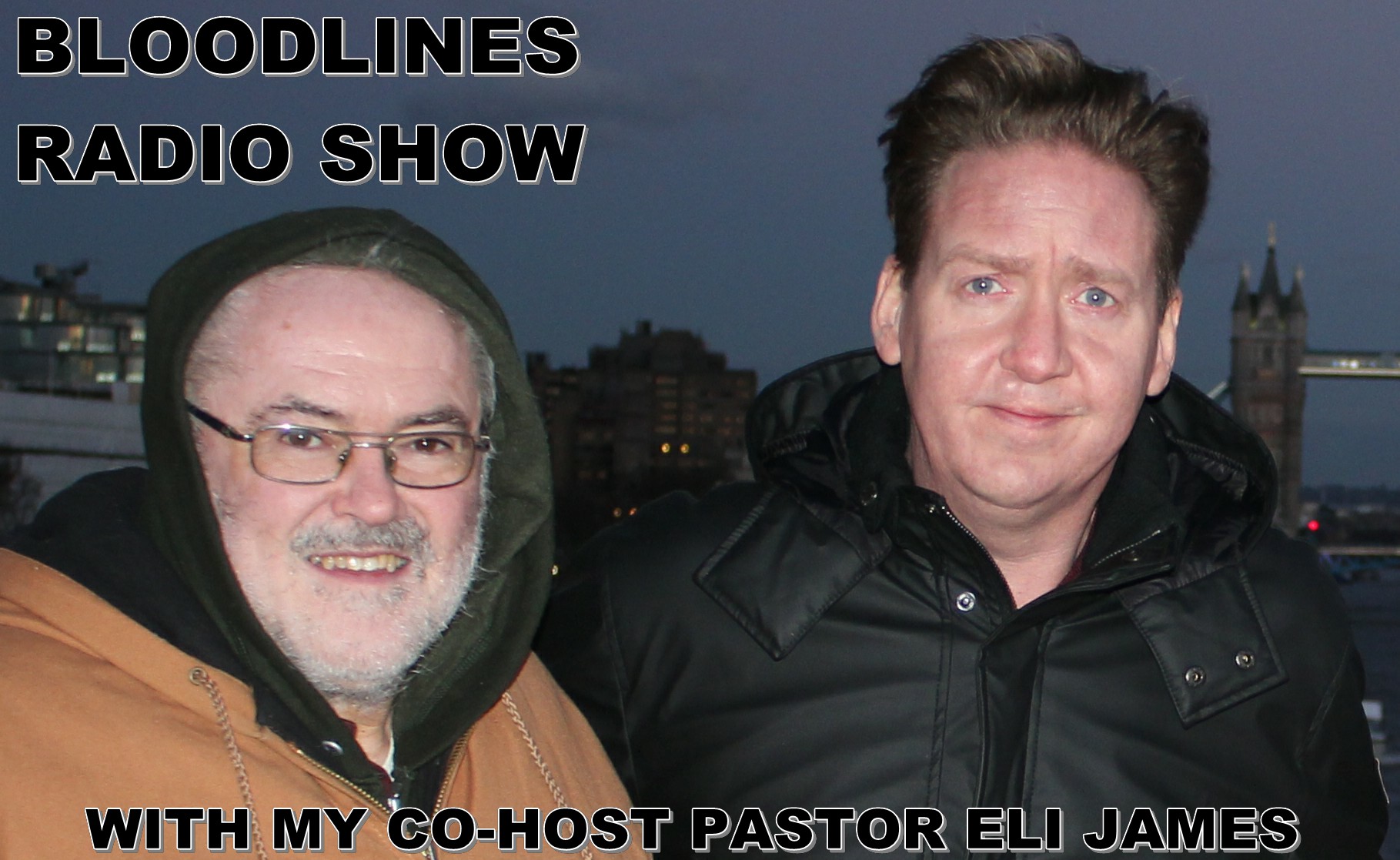 Bloodlines is a show I co-hosted with Pastor Eli James every Sunday for 90 minutes. Our first show was on August 3 2014 and our last show was on May 15 2016.  I left the show to concentrate on, "The Andrew Carrington Hitchcock Show," but I am happy to say the show continues with Pastor Steve replacing me Pastor Eli's co-host.
I returned to the show as a guest host on July 3 2016 with Bloodlines (97) Pastor Eli Live From FreedomPalooza and will continue to post any shows I guest host on Bloodlines within this page.
You can listen to each show by left clicking the link. You can download each show by right clicking the link, then left clicking "save link as…" and finally left clicking the "save" button.
(97) July 3 2016 Pastor Eli Live From FreedomPalooza
(90) May 15 2016 Goodbye Andy, Hello Pastor Steve
(89) May 8 2016 The Jewish Question (Guest Host Paul Topete)
(88) May 1 2016 Exterminationalism And May Day
(87) April 24 2016 In The Name Of Yahweh – Part 15
(86) April 17 2016 In The Name Of Yahweh – Part 14
(85) April 10 2016 In The Name Of Yahweh – Part 13
(84) April 3 2016 Open Forum (Guest Host Pastor Dan Johns) THIS SHOW WAS NOT RECORDED – PLEASE EMAIL ME IF YOU RECORDED IT SO I CAN PUT IT UP
(83) March 27 2016 In The Name Of Yahweh – Part 12
(82) March 20 2016 In The Name Of Yahweh – Part 11
(81) March 13 2016 In The Name Of Yahweh – Part 10
(80) March 6 2016 In The Name Of Yahweh – Part 9
(79) February 28 2016 In The Name Of Yahweh – Part 8
(78) February 21 2016 In The Name Of Yahweh – Part 7
(77) February 14 2016 Dresden Firebombing – Allied Atrocity
(76) February 7 2016 In The Name Of Yahweh – Part 6
(75) January 31 2016 Oregon Standoff – Lavoy Finicum
(74) January 24 2016 In The Name Of Yahweh- Part 5
(73) January 17 2016 Jewish Genocide Of The White Race: CASE CLOSED! – Part 3
(72) January 10 2016 In The Name Of Yahweh – Part 4
(71) January 3 2016 In The Name Of Yahweh – Part 3
(70) December 27 2015 In The Name Of Yahweh – Part 2
(69) December 20 2015 In The Name Of Yahweh – Part 1
(68) December 13 2015 Why Did Yahweh Create The White Race?
(67) December 6, 2015 Overview Of Pastor Eli James The Great Impersonation
(66) November 29 2015 Protocol No. 23 And 24
(65) November 22 2015 Israel Zionist Proxy Terrorism
(64) November 15 2015 Protocol No. 21 And 22 Including An Analysis Of The Paris Terror Attacks
(63) November 8 2015 Protocol No. 20 – Part 2 – And The Parable Of The Wheat And The Tares
(62) November 1 2015 Protocol No. 20 – Part 1
(61) October 25 2015 The Kol Nidre – The Jewish Prayer Of Deception – Part 4
(60) October 18 2015 The Kol Nidre – The Jewish Prayer Of Deception – Part 3
(59) October 11 2015 Holocaust Or Holohoax? You Be The JUDGE! (Guest Host Paul English)
(58) October 4 2015 Protocol No. 18 And 19
(57) September 27 2015 The Kol Nidre – The Jewish Prayer Of Deception – Part 2
(56) September 20 2015 The Kol Nidre – The Jewish Prayer Of Deception – Part 1
(55) September 13 2015 Protocol No. 17
(54) September 6 2015 911 Special
(53) August 30 2015 Protocol No. 16
(52) August 23 2015 Romans 9 – An Identity Analysis (Guest Host Paul English)
(51) August 16 2015 Gentiles – Part 2 (Guest Host Michael Bowles)
(50) August 9 2015 Gentiles – Part 1 (Guest Host Paul English)
(49) August 2 2015 Protocol No. 15 – Part 2
(48) July 26 2015 Protocol No. 15 – Part 1
(47) July 19 2015 Jewish Distractions And Protocol No. 14
(46) July 12 2015 The Oneness Doctrine – Scriptural Origin Of The Races – Protocol No. 13
(45) July 5 2015 Patrick Cullinane (Guest Host Paul English)
(44) June 28 2015 Galatians Chapter 3
(43) June 21 2015 Origin Of The Gauls (Galatians)
(42) June 14 2015 Protocol No. 12 – Part 2
(41) June 7 2015 Michael Collins Piper Remembered
(40) May 31 2015 Protocol No. 12 – Part 1 And The EFR Caveat
(39) May 24 2015 The Hutschnecker Report (Guest Host – Paul English)
(38) May 17 2015 Christian Identity Explained – Part 2 (Guest Host – John Friend)
(37) May 10 2015 Christian Identity Explained – Part 1 (Guest Host – John Friend)
(36) May 3 2015 George Washington's Prophetic Vision At Valley Forge
(35) April 26 2015 Protocol No. 11
(34) April 19 2015 Protocol No. 10 – Part 2
(33) April 12 2015 Protocol No. 10 – Part 1
(32) April 5 2015 Pagan Origins Of Easter
(31) March 29 2015 Protocol No. 9
(30) March 22 2015 Protocol No. 8
(29) March 15 2015 Protocol No. 6 And 7
(28) March 8 2015 Jewish Genocide Of The White Race: CASE CLOSED! – Part 2
(27) March 1 2015 Jewish Genocide Of The White Race: CASE CLOSED! – Part 1
(26) February 22 2015 Protocol No. 5
(25) February 15 2015 Protocol No. 4
(24) February 8 2015 From Genesis To Genocide: Destiny Of The Jews – Part 3
(23) February 1 2015 From Genesis To Genocide: Destiny Of The Jews – Part 2
(22) January 25 2015 From Genesis To Genocide: Destiny Of The Jews – Part 1
(21) January 18 2015 Gas Oil And Gold – Putin's Strategy Against The Jew World Order
(20) January 11 2015 Charlie Hebdo And Other Jewish False Flags
(19) January 4 2015 Protocol No. 3
(18) December 28 2014 Pagan Origins Of Christmas
(17) December 21 2014 Pastor Eli In London And South Africa
(16) December 14 2014 Andrew's First Solo Show
(15) November 30 2014 Protocol No. 2 And 3
(14) November 23 2014 Protocol No. 1
(13) November 16 2014 The Talmud – Judaism's Satanic Bible – Part 3
(12) November 9 2014 The Talmud – Judaism's Satanic Bible – Part 2
(11) November 2 2014 The Talmud – Judaism's Satanic Bible – Part 1
(10) October 26 2014 The Solution To The Synagogue Of Satan
(9) October 19 2014 Ebola And The Medical Dialectic
(8) October 5 2014 The Jewish Mafia
(7) September 28 2014 Diversity
(6) September 14 2014 The Myth Of Al-Qaeda
(5) September 7 2014 Edgar Steele Remembered
(4) August 31 2014 Beasts Of The Field
(3) August 17 2014 Eli In Vietnam – Part 2
(2) August 10 2014 Eli In Vietnam – Part 1
(1) August 3 2014 Debut Show