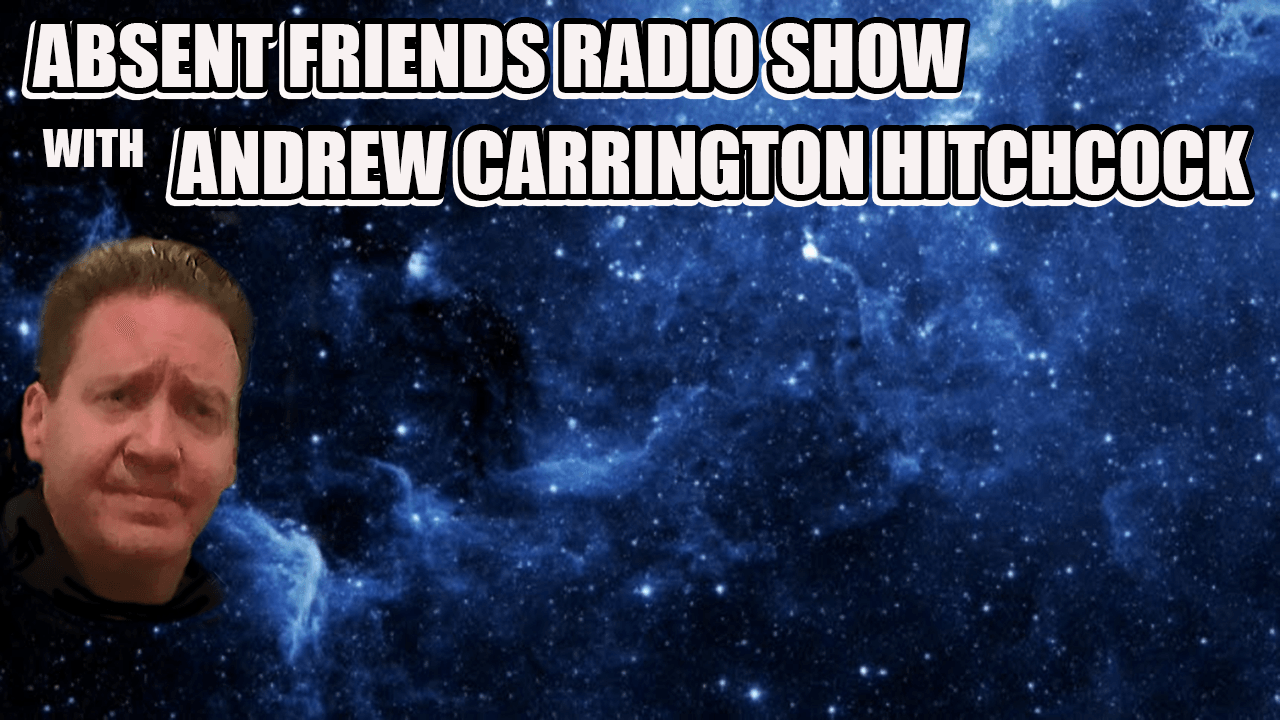 Andrew Carrington Hitchcock's Absent Friends was a series of shows that honoured the heroes of our race who have gone before.
Those heroes I presented in this series were: Adolf Hitler; An Unknown Absent Friend; Archibald Maule Ramsay; Arnold Leese; Charles E. Coughlin; Dan Gayman (Who I Have Since Been Told Is Still With Us – Sorry About That Dan, I Had Information To The Contrary); Eustace Mullins; George Lincoln Rockwell; George Sydenham Clarke; Henry Ford And William Cameron; J.B. Pranaitis; John Beaty; John Tyndall; Karl G. Sabier; Major General Smedley Butler; Nord Davis Jr.; Telemachus Thomas Timayenis; and William Joyce.
You can listen to each show by left clicking the link. You can download each show by right clicking the link, then left clicking "save link as…" and finally left clicking the "save" button.
(32) May 28 2016 Telemachus Thomas Timayenis – Part 2 – Dan Gayman (This week Telemachus Thomas Timayenis – Part 2. I continue reading from his book, The American Jew, Chapter 5 – The Jew in the Tobacco Trade, pages 46-51, 52-53. Chapter 10 – The Criminal Jew, pages 106-115. Chapter 12 – The Jew in his Relation to the Law, pages 151-152. I then read the following from Dan Gayman's, "The Two Seeds of Genesis 3:15," Chapter 13 – The Serpent Seed in Dispersion, pages 274-286, and Chapter 17 – The Biblical Teaching About Satan, page 334.)
(31) May 21 2016 George Lincoln Rockwell – Part 6 – Karl G. Sabier – Telemachus Thomas Timayenis – Part 1 (This week I conclude George Lincoln Rockwell's book, "White Power," reading Chapter 10 – The Facts Of Race, pages 251-254, Chapter 13 – White Imperium, pages 321-322, Chapter 14 – White Revolution, pages 337-339, and Chapter 16 – White Power, pages 363-366. I then read about Noah's Flood, pages 35-36, from Karl G. Sabier's book, 'The Amazing Story How Archaeology Proves The Bible Is True.' Then a new series, Telemachus Thomas Timayenis – Part 1. Starting with his book, The Original Mr Jacobs: A Startling Expose, I read the chapter, Customs and Habits of the Jews, pages 6-7, 12, 32-33, and 40. I then move onto the next chapter, Degeneration of the Jews, reading pages 95-96, 196-198, 205-206, 235-237, 297, and 307-308. I conclude this episode with his second book, The American Jew, reading the Introduction, and Chapter 2 – His Arrival in America, pages 13-15.)
(30) May 14 2016 George Lincoln Rockwell – Part 5 (This week I continue reading from George Lincoln Rockwell's book, "White Power," starting Chapter 10 – The Facts Of Race, pages 227-234, and pages 236-251.)
(29) May 7 2016 George Lincoln Rockwell – Part 4 (This week I continue reading from George Lincoln Rockwell's book, "White Power," concluding Chapter 9 – The Black Plague, with pages 201-226.)
(28) April 30 2016 George Lincoln Rockwell – Part 3 (This week I continue reading from George Lincoln Rockwell's book, "White Power," concluding Chapter 5 – The Ship Wreckers, with pages 110-119, and 120-131. I then read, Chapter 6 – A Close Look At The Crooks, pages 132-136, and Chapter 9 – The Black Plague, pages 199-201.)
(27) April 23 2016 George Lincoln Rockwell – Part 2 (This week I continue reading from George Lincoln Rockwell's book, "White Power," concluding Chapter 1 – Death Rattle, pages 28-31. I then read, Chapter 2 – Spiritual Syphilis, pages 32-37, and Chapter 5 – The Ship Wreckers, pages 92-110.)
(26) April 16 2016 George Lincoln Rockwell – Part 1 (This week a new series on George Lincoln Rockwell in which I read the Foreword to his book, "White Power," then his poem, "The Ducks And The Hens." I then return to, "White Power," reading Chapter 1 – Death Rattle, pages 1-28.)
(25) April 9 2016 JB Pranaitis And John Beaty And George Lincoln Rockwell (This week I provide a historical background to J.B. Pranaitis, the author of, "The Talmud Unmasked," and read the Epilogue of that book. I then read the following from John Beaty's, "The Iron Curtain Over America," the dust jacket notes, and selections from pages 24-25, 34, 41-42, 93-94, 97-98, 133-135, 166-167. I then read the cover notes of George Lincoln Rockwell's, "White Power," in preparation for a new series on George that will start next week.)
(24) April 2 2016 Eustace Mullins – Part 4 (This week I conclude my series on Eustace Mullins, by reading selections of the following pages from, "Murder By Injection," Eustace's Foreword then pages 3-5, 8-12, 34-35, 130-137, 158-159, 173-175, 358-360. Then I move onto, "The Great Betrayal" reading from page 5-6, and I conclude the series by reading from, "The Secret Holocaust," pages 19-21 and 26.)
(23) March 26 2016 Eustace Mullins – Part 3 (This week I finish reading Eustace Mullins' book, My Life In Christ." I then read selections of the following pages from, "The Biological Jew," 11, 15-16, 33, 35-36, 40-41, 46-47, 82, 84. Finally I move onto, "Mullins New History Of The Jews," reading selections from the following pages, 17-18, 37-38, 54-57, 72-73, 120, 136, 144-145, 151-153.)
(22) March 19 2016 Eustace Mullins – Part 2 (This week I continue reading from Chapter 2 of Eustace Mullins' book, My Life In Christ.)
(21) March 12 2016 Eustace Mullins – Part 1 (This week a new series on Eustace Mullins in which I read a short bio of Eustace, followed by the updated Foreward from the 1991 edition of Secrets Of The Federal Reserve and Chapter 2 of My Life In Christ.)
(20) March 5 2016 John Tyndall – Part 2 (This week I finish my series on John Tyndall, reading the following extracts from his seminal book, 'The Eleventh Hour.' The Cancer of Liberalism (pages 132-134); The Left (136-137, 138-139); Conservatism in Surrender (163-164); Years of Political Apprenticeship (178-179); Freedom – The Illusion and the Reality (254-255); The Role of the Media (269-270, 273, 285-286); The Racial Controversy (346-347, 348-350, 362-364); The Imperial Imperative (401, 423-424); Britain and the World (442, 457-459); The Way Ahead (522)
(19) February 27 2016 Nord Davis Jr – Part 4 And John Tyndall – Part 1 (This week I finish my series on the works of Nord Davis Jr as I conclude Nord's speech on C. I. Scofield. I then start a new series on John Tyndall, reading the following extracts of chapters from John's book, 'The Eleventh Hour.' This week: Origins and Early Life (page 24); The Call of Politics (pages 42, 53-56, and 64); Is there a Conspiracy? (pages 93-94 and 103-107); and The Cancer of Liberalism (pages 122-123, 127-128, and 129-130.)
(18) February 20 2016 Nord Davis Jr – Part 3 (This week I conclude Nord's article on America's Fabulous Lady Patriots, and the other articles I explore cover: Jews Exempt from West German Military Service and Ruth was an Israelite. I then read from Nord's seminal work, 'Star Wars': an extract from Lesson Three; Lesson Six in its entirety; and extracts from Lessons Seven, Eight, and Thirteen. I conclude with Nord's speech on C. I. Scofield.)
(17) February 13 2016 Nord Davis Jr – Part 2 (This week I conclude Nord's article on Nelson Mandela, and the other articles I explore cover: American Prisoners of War still in captivity in Southeast Asia; Talmudic Origins of the Noahide Laws; The Death of Gordon Kahl; The Phineas Priesthood; Darwin's Refutation of his Theory of Evolution; The Deaths of Karl Marx and Thomas Paine; Self-Defence; Stand Mute as Christ In Court; and America's Fabulous Lady Patriots.)
(16) February 6 2016 Pamphlet – Britain And Jewry And Nord Davis Jr – Part 1 (This week I conclude reading from a 1938 pamphlet entitled, 'Britain And Jewry,' by an unknown Absent Friend. I then start a new series on Nord Davis Jr. This week four articles: the Biblical Law; how Jews are not Israel; the Ten Planks of the Communist Manifesto; and Nelson Mandela.)
(15) January 30 2016 Henry Ford And William Cameron – Part 3 – And Pamphlet – Britain And Jewry (This week I conclude the 80 articles which appeared in Henry Ford's four volume set, The International Jew. In this third and final show on the subject, I cover the remaining 22 articles published from July 30th 1921 to January 14th 1922. I then start reading from a 1938 pamphlet entitled, 'Britain And Jewry,' by an unknown Absent Friend.)
(14) January 23 2016 Henry Ford And William Cameron – Part 2 (This week I continue exploring each of the 80 articles which appeared in Henry Ford's four volume set, The International Jew. In this second show on the subject, I cover 37 articles published from October 16th 1920 to July 23rd 1921.)
(13) January 16 2016 Henry Ford And William Cameron – Part 1 (A new series exploring each of the 80 articles which appeared in Henry Ford's four volume set, The International Jew. In this first show, I cover 21 articles published from May 22nd 1920 to October 9th 1920.)
(12) January 9 2016 Adolf Hitler – Part 3 And Charles E. Coughlin And George Sydenham Clarke (Chapter 2 – The State (pages 327 – 329, 345 – 347, and 358 – 359); Chapter 10 – The Mask Of Federalism (page 457); and Chapter 13 – German Alliance Policies After The War (pages 503 -504). Charles E. Coughlin's, "Abraham Lincoln and the Rothschilds." George Sydenham Clarke's, "The Jewish World Problem.")
(11) January 2 2016 Adolf Hitler – Part 2 (Mein Kampf: Chapter 11 – People and Race (pages 266 – 282); then an extract from Chapter 12 – Early Development Of The National Socialist German Workers Party (page 284 and page 300). This concludes Volume 1 of Mein Kampf.)
(10) December 26 2015 Archibald Maule Ramsay – Part 5 And Adolf Hitler – Part 1 (The Nameless War: Particulars Alleged As Reasons For My Detention; The Statutes Of Jewry 1275; The Jews In Britain; Famous Men On The Jews. Mein Kampf: Chapter 2 – Years Of Learning And Suffering In Vienna (page 89); Chapter 4 – Munich (page 149 – 152); and Chapter 11 – People And Race (page 264 – 266)
(9) December 19 2015 Archibald Maule Ramsay – Part 4 (The Nameless War: Regulation 18B; Who Dares?; Epilogue; Statement By Captain Ramsay From Brixton Prison To The Speaker And Members Of Parliament Concerning His Detention Under Paragraph 18B Of The Defence Regulations; and Particulars Alleged As Reasons For My Detention)
(8) December 12 2015 Archibald Maule Ramsay – Part 3 (The Nameless War: 1933 – Jewry Declares War; Phoney War Ended By Civilian Bombing; Dunkirk And After; The Shape Of Things To Come; President Roosevelt's Role; and Regulation 18B)
(7) December 5 2015 Archibald Maule Ramsay – Part 2 (The Nameless War: The French Revolution; The Russian Revolution; Development Of Revolutionary Technique; Germany Bells The Cat)
(6) November 28 2015 Arnold Leese – Part 5 And Archibald Maule Ramsay – Part 1 (Arnold Leese – Out of Step – Events in the Two Lives of an Anti-Jewish Camel Doctor. Archibald Maule Ramsay – The Nameless War: Prologue; The British Revolution; and The French Revolution)
(5) November 21 2015 Arnold Leese – Part 4 (The Real Jew – A Lesson From Turkey; Gentile Folly – The Rothschilds; My Irrelevant Defence – Meditations Inside Gaol And Out On Jewish Ritual Murder; The Jewish War Of Survival)
(4) November 14 2015 Arnold Leese – Part 3 (Short Articles From Gothic Ripples and The Fascist; Jewish Press Control; The Legalised Cruelty of Shechita – The Jewish Method Of Cattle Slaughter; Psychology and the Jews)
(3) November 7 2015 Arnold Leese – Part 2 (Bolshevism is Jewish; Money No Mystery – Mastery By Monopoly)
(2) October 31 2015 Arnold Leese – Part 1 (The Era Of World Ruin; Disraeli The Destroyer; Chinese Communism; Bolshevism Is Jewish)
(1) October 24 2015 Major General Smedley Butler And William Joyce