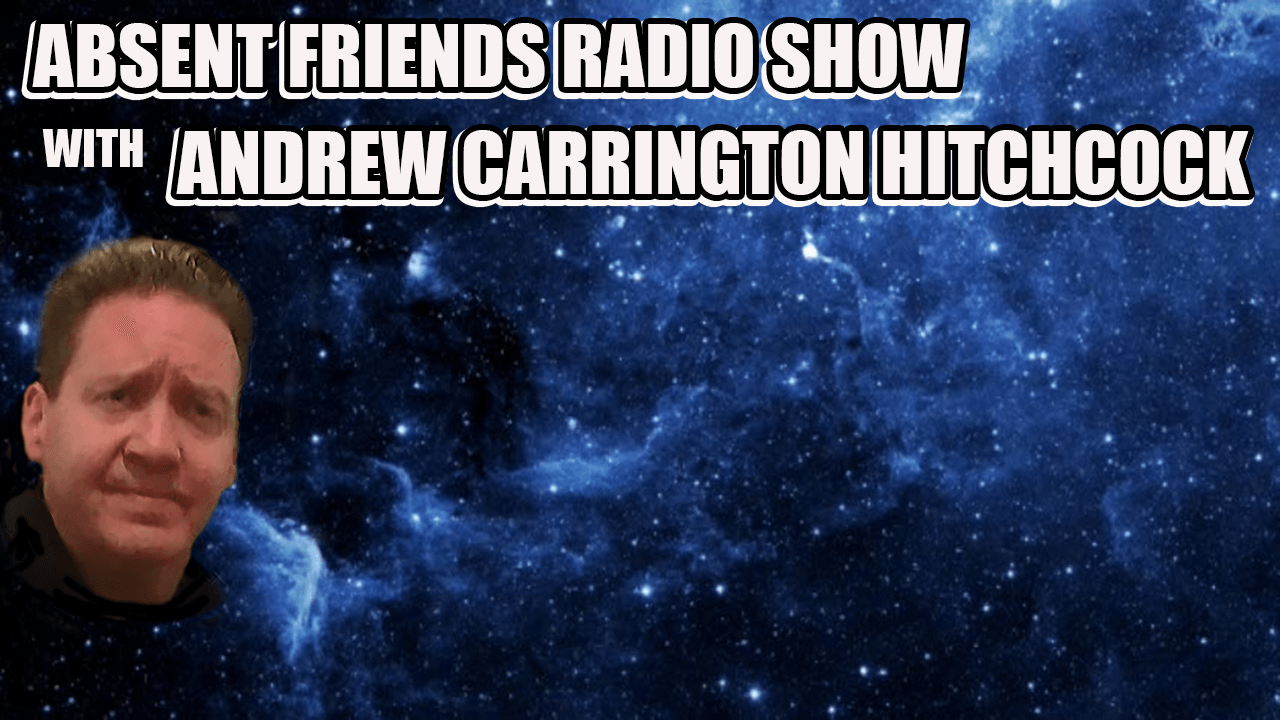 Andrew Carrington Hitchcock's Absent Friends was a series of shows that honoured the heroes of our race who have gone before.
Those heroes I presented in this series were: Adolf Hitler; An Unknown Absent Friend; Archibald Maule Ramsay; Arnold Leese; Charles E. Coughlin; Dan Gayman (Who I Have Since Been Told Is Still With Us – Sorry About That Dan, I Had Information To The Contrary); Eustace Mullins; George Lincoln Rockwell; George Sydenham Clarke; Henry Ford And William Cameron; J.B. Pranaitis; John Beaty; John Tyndall; Karl G. Sabier; Major General Smedley Butler; Nord Davis Jr.; Telemachus Thomas Timayenis; and William Joyce.
To download and save on Windows, simply right-click any of the links below and click "Save link as…" For Apple Macs simply use Control-click. To stream online simply click the link.
(32) May 28 2016 Telemachus Thomas Timayenis – Part 2 – Dan Gayman (This week Telemachus Thomas Timayenis – Part 2. I continue reading from his book, The American Jew, Chapter 5 – The Jew in the Tobacco Trade, pages 46-51, 52-53. Chapter 10 – The Criminal Jew, pages 106-115. Chapter 12 – The Jew in his Relation to the Law, pages 151-152. I then read the following from Dan Gayman's, "The Two Seeds of Genesis 3:15," Chapter 13 – The Serpent Seed in Dispersion, pages 274-286, and Chapter 17 – The Biblical Teaching About Satan, page 334.)
(31) May 21 2016 George Lincoln Rockwell – Part 6 – Karl G. Sabier – Telemachus Thomas Timayenis – Part 1 (This week I conclude George Lincoln Rockwell's book, "White Power," reading Chapter 10 – The Facts Of Race, pages 251-254, Chapter 13 – White Imperium, pages 321-322, Chapter 14 – White Revolution, pages 337-339, and Chapter 16 – White Power, pages 363-366. I then read about Noah's Flood, pages 35-36, from Karl G. Sabier's book, 'The Amazing Story How Archaeology Proves The Bible Is True.' Then a new series, Telemachus Thomas Timayenis – Part 1. Starting with his book, The Original Mr Jacobs: A Startling Expose, I read the chapter, Customs and Habits of the Jews, pages 6-7, 12, 32-33, and 40. I then move onto the next chapter, Degeneration of the Jews, reading pages 95-96, 196-198, 205-206, 235-237, 297, and 307-308. I conclude this episode with his second book, The American Jew, reading the Introduction, and Chapter 2 – His Arrival in America, pages 13-15.)
(30) May 14 2016 George Lincoln Rockwell – Part 5 (This week I continue reading from George Lincoln Rockwell's book, "White Power," starting Chapter 10 – The Facts Of Race, pages 227-234, and pages 236-251.)
(29) May 7 2016 George Lincoln Rockwell – Part 4 (This week I continue reading from George Lincoln Rockwell's book, "White Power," concluding Chapter 9 – The Black Plague, with pages 201-226.)
(28) April 30 2016 George Lincoln Rockwell – Part 3 (This week I continue reading from George Lincoln Rockwell's book, "White Power," concluding Chapter 5 – The Ship Wreckers, with pages 110-119, and 120-131. I then read, Chapter 6 – A Close Look At The Crooks, pages 132-136, and Chapter 9 – The Black Plague, pages 199-201.)
(27) April 23 2016 George Lincoln Rockwell – Part 2 (This week I continue reading from George Lincoln Rockwell's book, "White Power," concluding Chapter 1 – Death Rattle, pages 28-31. I then read, Chapter 2 – Spiritual Syphilis, pages 32-37, and Chapter 5 – The Ship Wreckers, pages 92-110.)
(26) April 16 2016 George Lincoln Rockwell – Part 1 (This week a new series on George Lincoln Rockwell in which I read the Foreword to his book, "White Power," then his poem, "The Ducks And The Hens." I then return to, "White Power," reading Chapter 1 – Death Rattle, pages 1-28.)
(25) April 9 2016 JB Pranaitis And John Beaty And George Lincoln Rockwell (This week I provide a historical background to J.B. Pranaitis, the author of, "The Talmud Unmasked," and read the Epilogue of that book. I then read the following from John Beaty's, "The Iron Curtain Over America," the dust jacket notes, and selections from pages 24-25, 34, 41-42, 93-94, 97-98, 133-135, 166-167. I then read the cover notes of George Lincoln Rockwell's, "White Power," in preparation for a new series on George that will start next week.)
(24) April 2 2016 Eustace Mullins – Part 4 (This week I conclude my series on Eustace Mullins, by reading selections of the following pages from, "Murder By Injection," Eustace's Foreword then pages 3-5, 8-12, 34-35, 130-137, 158-159, 173-175, 358-360. Then I move onto, "The Great Betrayal" reading from page 5-6, and I conclude the series by reading from, "The Secret Holocaust," pages 19-21 and 26.)
(23) March 26 2016 Eustace Mullins – Part 3 (This week I finish reading Eustace Mullins' book, My Life In Christ." I then read selections of the following pages from, "The Biological Jew," 11, 15-16, 33, 35-36, 40-41, 46-47, 82, 84. Finally I move onto, "Mullins New History Of The Jews," reading selections from the following pages, 17-18, 37-38, 54-57, 72-73, 120, 136, 144-145, 151-153.)
(22) March 19 2016 Eustace Mullins – Part 2 (This week I continue reading from Chapter 2 of Eustace Mullins' book, My Life In Christ.)
(21) March 12 2016 Eustace Mullins – Part 1 (This week a new series on Eustace Mullins in which I read a short bio of Eustace, followed by the updated Foreward from the 1991 edition of Secrets Of The Federal Reserve and Chapter 2 of My Life In Christ.)
(20) March 5 2016 John Tyndall – Part 2 (This week I finish my series on John Tyndall, reading the following extracts from his seminal book, 'The Eleventh Hour.' The Cancer of Liberalism (pages 132-134); The Left (136-137, 138-139); Conservatism in Surrender (163-164); Years of Political Apprenticeship (178-179); Freedom – The Illusion and the Reality (254-255); The Role of the Media (269-270, 273, 285-286); The Racial Controversy (346-347, 348-350, 362-364); The Imperial Imperative (401, 423-424); Britain and the World (442, 457-459); The Way Ahead (522)
(19) February 27 2016 Nord Davis Jr – Part 4 And John Tyndall – Part 1 (This week I finish my series on the works of Nord Davis Jr as I conclude Nord's speech on C. I. Scofield. I then start a new series on John Tyndall, reading the following extracts of chapters from John's book, 'The Eleventh Hour.' This week: Origins and Early Life (page 24); The Call of Politics (pages 42, 53-56, and 64); Is there a Conspiracy? (pages 93-94 and 103-107); and The Cancer of Liberalism (pages 122-123, 127-128, and 129-130.)
(18) February 20 2016 Nord Davis Jr – Part 3 (This week I conclude Nord's article on America's Fabulous Lady Patriots, and the other articles I explore cover: Jews Exempt from West German Military Service and Ruth was an Israelite. I then read from Nord's seminal work, 'Star Wars': an extract from Lesson Three; Lesson Six in its entirety; and extracts from Lessons Seven, Eight, and Thirteen. I conclude with Nord's speech on C. I. Scofield.)
(17) February 13 2016 Nord Davis Jr – Part 2 (This week I conclude Nord's article on Nelson Mandela, and the other articles I explore cover: American Prisoners of War still in captivity in Southeast Asia; Talmudic Origins of the Noahide Laws; The Death of Gordon Kahl; The Phineas Priesthood; Darwin's Refutation of his Theory of Evolution; The Deaths of Karl Marx and Thomas Paine; Self-Defence; Stand Mute as Christ In Court; and America's Fabulous Lady Patriots.)
(16) February 6 2016 Pamphlet – Britain And Jewry And Nord Davis Jr – Part 1 (This week I conclude reading from a 1938 pamphlet entitled, 'Britain And Jewry,' by an unknown Absent Friend. I then start a new series on Nord Davis Jr. This week four articles: the Biblical Law; how Jews are not Israel; the Ten Planks of the Communist Manifesto; and Nelson Mandela.)
(15) January 30 2016 Henry Ford And William Cameron – Part 3 – And Pamphlet – Britain And Jewry (This week I conclude the 80 articles which appeared in Henry Ford's four volume set, The International Jew. In this third and final show on the subject, I cover the remaining 22 articles published from July 30th 1921 to January 14th 1922. I then start reading from a 1938 pamphlet entitled, 'Britain And Jewry,' by an unknown Absent Friend.)
(14) January 23 2016 Henry Ford And William Cameron – Part 2 (This week I continue exploring each of the 80 articles which appeared in Henry Ford's four volume set, The International Jew. In this second show on the subject, I cover 37 articles published from October 16th 1920 to July 23rd 1921.)
(13) January 16 2016 Henry Ford And William Cameron – Part 1 (A new series exploring each of the 80 articles which appeared in Henry Ford's four volume set, The International Jew. In this first show, I cover 21 articles published from May 22nd 1920 to October 9th 1920.)
(12) January 9 2016 Adolf Hitler – Part 3 And Charles E. Coughlin And George Sydenham Clarke (Chapter 2 – The State (pages 327 – 329, 345 – 347, and 358 – 359); Chapter 10 – The Mask Of Federalism (page 457); and Chapter 13 – German Alliance Policies After The War (pages 503 -504). Charles E. Coughlin's, "Abraham Lincoln and the Rothschilds." George Sydenham Clarke's, "The Jewish World Problem.")
(11) January 2 2016 Adolf Hitler – Part 2 (Mein Kampf: Chapter 11 – People and Race (pages 266 – 282); then an extract from Chapter 12 – Early Development Of The National Socialist German Workers Party (page 284 and page 300). This concludes Volume 1 of Mein Kampf.)
(10) December 26 2015 Archibald Maule Ramsay – Part 5 And Adolf Hitler – Part 1 (The Nameless War: Particulars Alleged As Reasons For My Detention; The Statutes Of Jewry 1275; The Jews In Britain; Famous Men On The Jews. Mein Kampf: Chapter 2 – Years Of Learning And Suffering In Vienna (page 89); Chapter 4 – Munich (page 149 – 152); and Chapter 11 – People And Race (page 264 – 266)
(9) December 19 2015 Archibald Maule Ramsay – Part 4 (The Nameless War: Regulation 18B; Who Dares?; Epilogue; Statement By Captain Ramsay From Brixton Prison To The Speaker And Members Of Parliament Concerning His Detention Under Paragraph 18B Of The Defence Regulations; and Particulars Alleged As Reasons For My Detention)
(8) December 12 2015 Archibald Maule Ramsay – Part 3 (The Nameless War: 1933 – Jewry Declares War; Phoney War Ended By Civilian Bombing; Dunkirk And After; The Shape Of Things To Come; President Roosevelt's Role; and Regulation 18B)
(7) December 5 2015 Archibald Maule Ramsay – Part 2 (The Nameless War: The French Revolution; The Russian Revolution; Development Of Revolutionary Technique; Germany Bells The Cat)
(6) November 28 2015 Arnold Leese – Part 5 And Archibald Maule Ramsay – Part 1 (Arnold Leese – Out of Step – Events in the Two Lives of an Anti-Jewish Camel Doctor. Archibald Maule Ramsay – The Nameless War: Prologue; The British Revolution; and The French Revolution)
(5) November 21 2015 Arnold Leese – Part 4 (The Real Jew – A Lesson From Turkey; Gentile Folly – The Rothschilds; My Irrelevant Defence – Meditations Inside Gaol And Out On Jewish Ritual Murder; The Jewish War Of Survival)
(4) November 14 2015 Arnold Leese – Part 3 (Short Articles From Gothic Ripples and The Fascist; Jewish Press Control; The Legalised Cruelty of Shechita – The Jewish Method Of Cattle Slaughter; Psychology and the Jews)
(3) November 7 2015 Arnold Leese – Part 2 (Bolshevism is Jewish; Money No Mystery – Mastery By Monopoly)
(2) October 31 2015 Arnold Leese – Part 1 (The Era Of World Ruin; Disraeli The Destroyer; Chinese Communism; Bolshevism Is Jewish)
(1) October 24 2015 Major General Smedley Butler And William Joyce