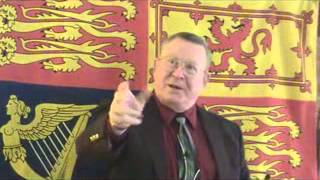 Today I am pleased to present the Teacher of Yahweh who gave me my Identity some ten years ago now, Dr. James P. Wickstrom, on this special edition Saturday podcast.
I have over 500 of Dr. Wickstrom's audio presentations which go back as far as July 2001, and have learnt much on the subject of Racial Identity from them.
Dr. Wickstrom starts the show by running through his background in discovering his own Racial Identity in the 1970's, we then discuss the current challenges facing our race today, and who is the source of these.
Dr Wickstrom then goes through the history of his audio and video presentations, and how he has been able to embrace technology for the purposes of educating our race as a people.
Dr. Wickstrom concludes the show with a tribute to the late great Colonel Francis P. Farrell and Sergeant Major John Roberts, who were regular guests on Dr. Wickstrom's radio program, before Yahweh took them home.
Click Here To Listen To The Show
Click Here For Dr. Wickstrom's Website
Click Here For Dr. Wickstrom's Yahweh's Truth Talkshoe Page
Click Here For Dr. Wickstrom's Arcodeaus YouTube Channel
Click Here For Dr. Wickstrom's Arcodeaus Reloaded YouTube Channel
Click Here For The Andrew Carrington Hitchcock Show Archive Where You Can Listen To Or Download All My Shows